Nominate now for a No Barriers award
25 August 2017

There's still time to nominative your local hero for a No Barriers Award.

The deadline for nominating people and organisations that go the extra mile for people with disabilities is Friday 29 September.

Awards will be presented to individuals, businesses and community groups that have significantly improved access, service or employment possibilities for local people with disabilities at a ceremony in October.

Councillor Fran Oborski, Chairman of the No Barriers, The Mike Oborski Awards said:

"The scheme has been well supported over the years and we are hoping that 2017 will continue this tradition. We encourage everyone, whatever their situation or role in life, to spend a few moments thinking about their recent experiences out and about in the area.

"Have you noticed an individual, a community group or a business that has gone the extra mile to support people with disabilities?  This could be anything from a small local cafe providing extra space to manoeuvre wheelchairs or to an organisation being extra supportive to someone who needs it.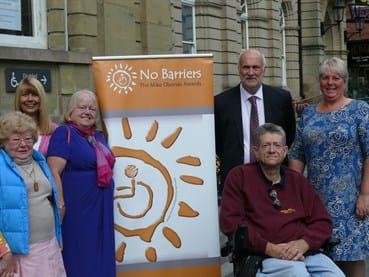 "These awards are not aimed at people who support those with disabilities as part of their day job. They are for those in all walks of life who go the extra mile for people with disabilities because it's the right thing to do. There are lots of examples of support and service provided over and above those required in standard rules and regulations but they are rarely publicly acknowledged.
"Please nominate the people providing these for a No Barriers, The Mike Oborski Award either online or in paper form. It is completely free to enter and is really valued by award winners who display the No Barriers sticker and certificate in their premises.
"Previous winners can also be nominated again for the award so please do re-nominate those who have continued to go above and beyond".
A panel comprising of representatives of local private and public sector organisations and the Kidderminster Shuttle will judge the nominations for the No Barriers, The Mike Oborski awards.
The awards event will be held in the Council Chamber, Wyre Forest House, Kidderminster on Thursday 19th October 2017 at 6.00pm.
Nominate online now or pick up a nomination form at the Worcestershire Hub at Kidderminster Town Hall, your local library or the Wyre Forest Community Housing Group offices.
The closing date for nominations is Friday 29th September 2017.
---