Fantastic line-up of FREE family fun
13 February 2017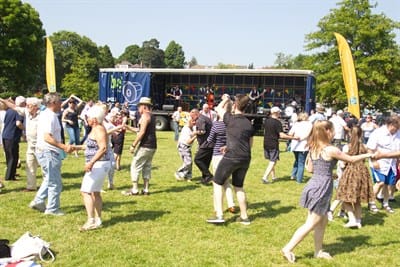 A Rock and Roll party, an outdoor cinema in the park and a Spring Fair are among the line-up of free events being put on by Wyre Forest District Council in 2017.
The popular Rock and Roll party is back at Stourport Riverside Meadows on Sunday 4 June.  Many of the acts have already been confirmed.  They include Hicksville Bombers, Heart Beats, Sharna-Mae and the Mayhems and Colin Paul.  There will be a Rock & Roll DJ between the acts.  The Council is also encouraging classic car owners to bring vehicles to the Riverside to add to the atmosphere of the event.
The Council has once again been invited by the Ministry of Defence to take part in an Armed Forces Flag Flying ceremony.  This year it will take place outside Bewdley Museum on Monday 19 June.  Serving and former local servicemen and women will be taking part in the ceremony to remember and support our armed forces.
Country and Western fans can enjoy a weekend at Stourport Riverside on 19 and 20 August.  The lively event has a great atmosphere and attracts fans from all over the country.  Some of the acts people can enjoy this year are  Amy Morgan, Twin Falls and Texas Tornadoes. Camping will be available. 
Kidderminster Arts Festival is back for two weeks in August.  The festival,  organised by the Council, brings music, dance, workshops, exhibitions and much more to the town centre.
Over the summer holidays there will be a varied programme of  activities aimed at children and young people. Some of these activities are free and all are easily accessible.
As the school summer holidays draw to an end there will be an outdoor cinema event in Brinton Park.  This event is on Sunday 27 August and you can help decide which film is shown!  There will be a children's film and a family film shown. You can chose one of three films in each category. Visit www.wyreforestdc.gov.uk/cinema to cast your vote.
Weekends in the summer will be filled with music too – as the popular outdoor concerts will return to Brinton Park, Kidderminster,  Bewdley's QEII Gardens and Stourport Riverside.
In Bewdley the Council-run, award winning Museum is reopening on Saturday 4 March.  To celebrate the start of 2017 season there will be live music throughout the day.  During the year there are lots of free events including a Spring Fair on 30 April and 1 May, a Cherry Fair in July and a Harvest Fair in October.  Entry to the museum is free.  The gift shop at the Museum and Tourist Information Centre are already open.
The Council will also be supporting the Christmas Lights Switch on events in the towns.
Councillor Juliet Smith, Wyre Forest District Council's Cabinet Member for Health, well-being and housing said:

"Once again there is a great line-up of things to do for all the family.  The team has built on the events which are popular and introduced a few new ones too.  Our website is kept up to date with all the details and people can also book online for ticketed events.  Most of the events are free but to enable the Council to continue to put on outdoor community events we are looking for businesses to sponsor them.  This is a great chance to be part of the events programme and get your business known."
A full listing of the events will be available on the Council's website www.wyreforestdc.gov.uk/events.  This will also include the paid for events the Council has organised.  'Billionaire Boy' by David Walliams will be performed at Bewdley Museum, there is an outdoor production of Great Expectations and  music from the popular Tenuto.
The events team and Bewdley Museum are on Facebook too. Search WFDC Events and Bewdley Museum.

Any enquiries about potential sponsorship visit our webpage www.wyreforestdc.gov.uk/sponsorship please contact Wyre Forest Media Office or if you would like a stall at one of the events  email Amy Smith at amy.smith@wyreforestdc.gov.uk or call 01562 732975 for details.
---