Kidderminster Coffee Shop Praised for Community Spirit and Support
23 February 2017

A coffee shop located at the heart of Kidderminster has been praised for its community spirit and support for vulnerable Wyre Forest residents.

The Gatsby Emporium in Oxford Street, Kidderminster hosts a range of community activities. It offers an upstairs facility to support people of any age with learning, physical and/or other disabilities; people and families living with Dementia; and/or people suffering loss of sensory impairment.

The Gatsby also offers crisis care, mental health support groups and many community-led groups (such as the new 'Knit and Natter' Group) that meet in a socially inclusive environment to share news and develop friendships. Last, but by no means least, The Gatsby also hosts a pending coffee scheme and distributes donations of clothes and blankets to assist the homeless.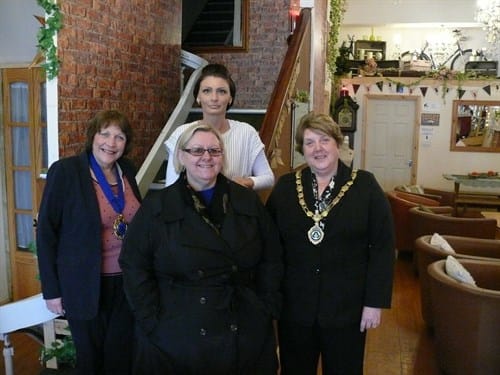 This week the Mayor of Kidderminster, Councillor Mary Rayner; the Chairman of Wyre Forest District Council, Councillor Rose Bishop; and the Cabinet Member for Health, Well-being and Housing, Councillor Juliet Smith popped into the Coffee Shop to pass on their personal thanks to Owner and Founder, Tia Sharman.
Both Councillors Rayner and Bishop (along with Councillors John Hart, John Desmond and Nicky Gale) have supported the Coffee Shop by making grants from their Community Leadership Fund allowance.
Under the scheme each member of the Council can make grants of up to £1000 per year to local projects, groups and/or initiatives that are helping to make a positive difference to residents' lives. More than 100 good causes across the whole of Wyre Forest have been helped by the scheme over the last year.
Councillor Juliet Smith, Cabinet Member for Health, Well-being and Housing said:
"The Gatsby Emporium is exactly the type of locally based, community-focused facility that we should be celebrating and supporting. Tia has done a fantastic job in building a calm place of safety for those who need it – regardless of sex, ability or disability – and having visited The Gatsby a few times now I would urge people to go there for a coffee and a chat."
Tia Sharman, Owner and Founder of The Gatsby Emporium said:
"The Gatsby Emporium was designed to support and help anyone needing care and support in a way that ensures they can remain at the centre of their community. The hub of everything is the Coffee Shop where anyone is warmly welcomed. I am blessed by the support I have received from Councillors and the general public who continue to donate into the pending coffee scheme* and give much-needed donations of clothes and blankets to help the homeless and/or less fortunate."
More information and a full list of grants made so far this year is available on our website at: www.wyreforestdc.gov.uk/communityleadershipfund
*The pending coffee scheme allows customers to buy drinks for people less fortunate than themselves.
---