Litter campaign success
08 February 2017

Enforcement officers from Wyre Forest District Council have hailed their January litter campaign to clean up Kidderminster town centre a great success.

Officers were out and about the town centre throughout January, educating people, raising awareness and enforcing litter regulations in line with the council's vision of keeping the district safe, clean and looking good.

The enforcement team worked with staff and students at Kidderminster College by providing information and advice to help reduce litter within their environment.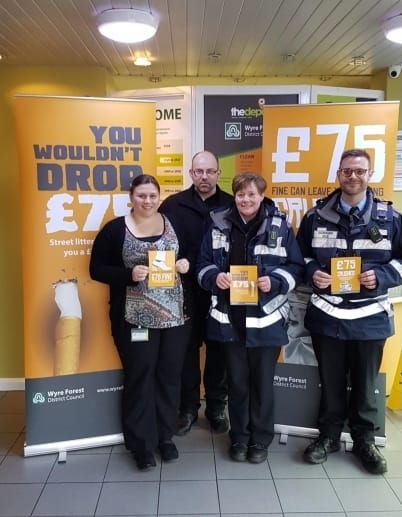 They distributed 400 'pocket ashtrays' throughout the campaign in a bid to persuade people not to drop cigarette butts, which can get in to the watercourse and cause damage.
During the month they also issued 26 Fixed Penalty Notices to people spotted dropping litter in the street and one case is pending court prosecution.
Cleansing operator Stan Pearce who works within Kidderminster town centre, said: "There was a dramatic reduction in the amount of litter dropped during the campaign when enforcement officers were in the town centre, raising awareness and educating the public."
Cabinet Member for Operational Services Councillor Rebecca Vale said: "'I am really pleased that the campaign has been successful and that fewer people have been dropping litter in the town centre.
"We obviously want people to put litter in the bin, but if you are not near a bin, hold onto it until you get home. Dropping litter is very antisocial and when the council has to pick it up, it places an unnecessary burden on the tax payer.

"Well done to our enforcement team, who have done an excellent job in raising awareness."
---