New gateposts herald a welcome to Wolverley
15 February 2017

New gateposts have been installed at the three main roads into the village of Wolverley to welcome visitors, thanks to a grant from the Localism Fund.

Motorists will spot the new gates as they arrive into Wolverley on the Franche Road, Wolverley Road and Shatterford Lane, and to make the gateways even more prominent, they coincide with the road surface speed markers.

Wolverley and Cookley Parish Councillors John Hart and Robin Drew and Cllr Marcus Hart, Leader of Wyre Forest District Council, (pictured left to right) have worked to get the gateways installed to create a defined 'entrance' to the village.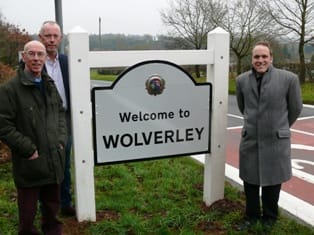 Councillor Marcus Hart said: "As leader of WFDC I am delighted to work in partnership with yet another parish council to invest in our local communities. The village gateways clearly give a village feel and certainly enhance the local area."
Wolverley and Cookley Parish Council Chairman Councillor John Hart said: "The Parish Council of Wolverley and Cookley are pleased to have received funding from the Localism fund of WFDC to install the gateways. They serve to create an attractive entrance into the heart of the villages and hopefully will encourage drivers to drive with care."
The gateway project has also been rolled out in Cookley and Caunsall where they are situated off the A449 at the top of Castle Road, Austcliffe Lane and Caunsall Road.
---