Worcestershire to receive £390k to help prevent rough sleeping
07 February 2017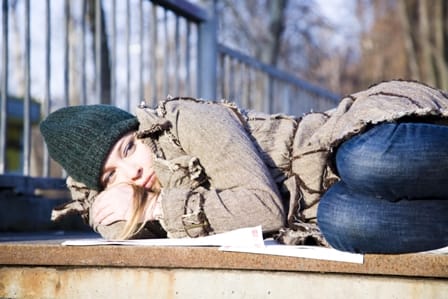 The county of Worcestershire is to receive over £390,000 in central government funding to help those new to the streets, or at imminent risk of sleeping rough.
Wyre Forest District Council has joined forces with other authorities in the county and local organisations including West Mercia Police, CCP and Maggs Day Centre to successfully apply for £390,258.55 in funding from the Department for Communities and Local Government.
The money will prevent an estimated 200 people from becoming entrenched rough sleepers over the next two years, by giving them access to a wide range of support to help turn their lives around.
This will include the development of the skills individuals need to remain in accommodation.
The grant will pay for seven dedicated staff to run a county-wide No First Night Out Taskforce, bringing together expertise and experience in helping people at risk of rough sleeping. 
"Our primary aim in Worcestershire is to step in and provide support at an early stage, to minimise the risk of local people losing the roof over their head in the first place," explains Kate Bailey, Strategic Housing Services Manager at Wyre Forest District Council. 
Cllr Juliet Smith, Cabinet Member for Health, Wellbeing and Housing at Wyre Forest District Council said "Wyre Forest District Council is totally committed to supporting people who are at risk of becoming homeless. This new funding will go a long way to help the serious problem of homelessness and having a dedicated team to help people at risk of rough sleeping will be an invaluable tool.
I am delighted that a range of support will be offered to individuals – including the development of life skills needed to stay in accommodation – as this type of ongoing support is essential to ensure that individuals can turn their lives around in the longer term."
One of the Taskforce's main priorities will be to work closely with private and social landlords to help identify people who are struggling to maintain their tenancy, either for financial or other reasons. Tenants will then be offered advice and support to help address their issues, increasing the chances of them being able to stay in accommodation.
The project will also explore opportunities for developing a shared housing model for people aged 35 and under, who are homeless or threatened with homelessness.
The Department for Communities and Local Government is expected to make the funding available from March 2017.
The organisations which successfully applied for the £390,258.55 allocation of funding are:  Worcester City Council; Bromsgrove District Council; Redditch Borough Council; Malvern Hills District Council; Wyre Forest District Council; Wychavon District Council; Community Housing Group; County Community Projects (CCP); West Mercia Police; Worcestershire YMCA; South Worcestershire Clinical Commissioning Group; Maggs Day Centre; Hereford and Worcester Fire Service; and Bromsgrove District Housing Trust.
---