Council delivers bowling club a winning shot
24 January 2017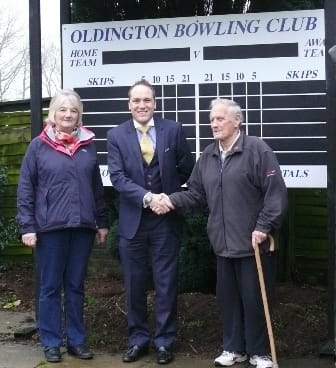 Wyre Forest District Council has delivered a winning shot to a Kidderminster bowling club by part funding a new mower that will keep the green in tip top condition for years to come.
The council has given Oldington Bowling Club £1,800 towards the cost of a second hand mower from its Localism Fund.
The grant means the club, in Zortech Avenue, off Walter Nash Road, can look forward to a great start to the bowling season in April providing almost daily recreation, entertainment and competition for the club's 75 active members plus the many more players who regularly use the green in competitions and cup matches.
Geoff "Maxi" Gilbert, a club committee member and groundsman, said : "We are so grateful to the council contributing towards the mower. We are a small community club and subscriptions just about cover the general maintenance. We have to fund raise to pay for things like a new mower.
"We have raised £1,200 towards a replacement mower - the council's grant will mean we can get a decent second hand machine that will last us for the next few years."
Fixtures secretary Jane Saunders explained that the club offers a real lifeline for members from across Kidderminster, Stourport and Bewdley with bowling taking place most days of the week from April to September.
Council Leader Marcus Hart, who is Cabinet Member for Localism, was invited to the have a look around the club this week to meet some of the committee members and see how the grant will benefit local people.
He said: "This is a small community club that provides a fantastic service to residents across Wyre Forest. When we heard the club was without a decent mower, we were more than happy to part fund a replacement.
"Previously Wyre Forest District Council provided bowling facilities but in these tough financial times that is no longer possible. However we wish to continue to protect and support these services and facilities by making voluntary organisations running them eligible to apply for Localism grants.
"Localism is about working with communities and organisations to support services that meet local needs."
The club is hoping to get more new members to come along and try bowling.
Jane said: "People can just come along and have a go – even if you've never picked up a bowl before. We are a small and friendly club with a great atmosphere and bowling is a great way of keeping fit and meeting others.
"Members can come and play all day if they wish – and our wonderful summer teas and delicious homemade cakes are famous in their own right!"
Everyone is welcome, for more information contact Jane on 07810 452050 or email rsaunders5032@gmail.com
The deadline for applying for Localism grants for this financial year is 31 January. Details of how to apply are available at www.wyreforestdc.gov.uk/localism
---