Delight as paddling pool transfers to town council
20 January 2017

Wyre Forest District Council Leader Marcus Hart and the Mayor of Stourport Ken Henderson have expressed their delight over an agreement that secures the future of the town's paddling pool.

Wyre Forest District Council is transferring responsibility for the management of the paddling pool  to Stourport Town Council as part of its Localism initiative.

The agreement sees Wyre Forest District Council give the town council a one-off £2,000 lump sum plus funding to fully cover the pool's maintenance in year one and 50% of running costs in year two.

Councillor Hart, who is also Cabinet Member for Localism, said: "I'm delighted Stourport Town Council has decided to take over responsibility for the town's paddling pool.

"It's another example of how we are working closely to give local communities greater control over services in their area and the freedom to tailor them to meet local needs.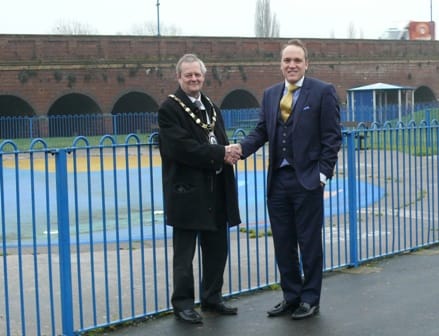 "Localism in Wyre Forest is allowing us to work in partnership with town councils and local organisations to protect non essential services during the current difficult financial climate."
Stourport Mayor Councillor Ken Henderson said: "This is another good example of the localism agenda. The saving of the paddling pool is good for the town, the children of the town and visitors.
"I am hoping that further funding will come our way in the coming years for improvements to the feature."
Wyre Forest District Council has already successfully transferred St George's paddling pool to Kidderminster Town Council and is also hoping to find a local organisation willing to take on responsibility for Bewdley paddling pool.
The deadline for applying for Localism grants for this financial year is 31 January. Details of how to apply are available at www.wyreforestdc.gov.uk/localism
---