Plans to expand Leisure Centre car park
31 January 2017

Plans to expand the number of car parking spaces at Wyre Forest Leisure Centre on Silverwoods Way Kidderminster are being developed by Wyre Forest District Council.

In the first six months since the Leisure Centre opened, there has been almost 210, 000 visitors, with an average of more than 34,500 visitors a month.  The variety of activities, excellent facilities, popular timetabled sessions coupled with the seasonal increase in interest in fitness means the centre has been exceptionally busy. Fitness membership has been growing and there has been an increase of 50 per cent on swimming lessons.

The authority has been working on a scheme to increase the number of parking spaces at the centre. It is looking to remove some of the landscaping to create a minimum of 25 new spaces.  The changes will require planning permission and as part of this process there will be consultation with residents.

Councillor Marcus Hart, Leader of Wyre Forest District Council said:

"We are now in a position to give a few more details on the plans we are working on to expand the car park.  We are having designs drawn up to change some landscaping at the centre to parking spaces and we will be submitting the planning application as soon as possible. The changes will take time so we are continuing to work with Places for People Leisure (PfPL) to reduce the pressure.  We are asking all drivers to park sensibly and legally if they cannot get onto the car park and we are encouraging car sharing.  Our enforcement team will continue to patrol the area to deter people from parking illegally.

When PfPL submitted the planning application for the Leisure Centre, they were granted permission for the maximum number of car parking spaces allowed for its size.  The rules, which are set nationally, have since changed and it is now up to the facility operator to justify the number of spaces they seek permission for.

Cllr Hart added:

"We are delighted that the Leisure Centre is proving very popular and we want to alleviate the parking problem for users and the centre's neighbours.  The Leisure Centre is part of the overall Silverwoods site success story, bringing a new leisure facility, housing, jobs and business opportunities to the town."

Work to construct the additional car parking spaces can not start until after planning permission is granted and it is therefore anticipated they will not be complete until early summer.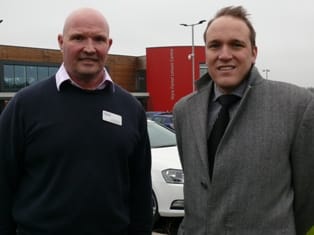 Stuart Booton Manager at Wyre Forest Leisure Centre and Cllr Marcus Hart, Leader of Wyre Forest District Council.
---