Opening Doors into business
06 July 2017

Local students had an insight into working in a local business or organisation thanks to the 'Opening Doors for Business scheme' which ran in Wyre Forest for the second consecutive year.

Organised by the ContinU Trust and local firm OGL Computer, high school students visited local participating organisations and gained an insight into what it does, how day-to-day business is carried out and meet the people who work there.

The idea of the 'Opening Doors for Business scheme' is to provide young people who are thinking about their career direction to have a taste of the real working environment and what different workplaces look like.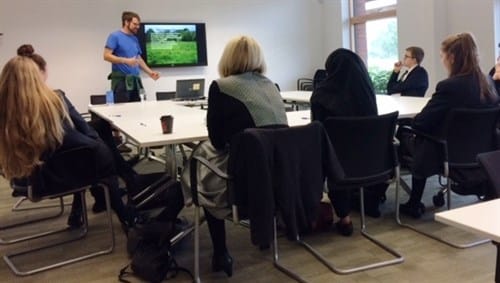 A group from King Charles School Kidderminster visited Wyre Forest District Council to hear how council communications work, and from the Rangers, heard how the local nature reserves and green spaces are managed across the district.  Students were particularly interested to hear about rare species of mosquitoes on a local nature reserve and how green spaces are protected and cared for.
The Opening Doors for Business scheme was launched in 2016 thanks to partnerships between OGL Computer, ContinU Trust and Wyre Forest District Council.
Neil Morris, Director of OGL and Chair of the ReWyre Board said: "When I took up the role of Chairman of ReWyre, it was my vision to make our agenda about grass roots business issues.  ReWyre is all about creating a positive environment for businesses, visitors, as well as investors in Kidderminster and Wyre Forest.
"The ReWyre board members – made up of local business leaders and Wyre Forest District Council - want to do something proactive to bridge the skills gap we have in the area. One of the ways we are doing this is to engage young people to show them that there are exciting and wide ranging opportunities on their own doorstep.
"Hopefully this will inspire them to look into the comprehensive training and development opportunities at our colleges and the organisations themselves and create their chosen lifestyles in the local area."
Cllr Ian Hardiman, Wyre Forest Cabinet Member for Planning & Economic Regeneration said: "There are many excellent businesses and public sector employers in Wyre Forest who are always looking for enthusiastic, willing people to add value to their organisations.  By participating in this scheme, we want to send a message to young people that they should look closely at the local workplace for apprenticeships and careers where they can develop and grow."
Emma Porter, Head of HR at OGL Computer commented: "We invest a lot of time into maintaining good working relationships with the local schools and colleges as we value local home grown talent.  We have a diverse workforce and it's that blend of the fresh ideas with extensive industry knowledge that enables us to deliver high levels of service to our customers."
During the week, students had a mixture of experiences such as participating in meetings, observing how customers are engaged with, seeing manufacturing in action and talking to workers.
Photograph shows Wyre Forest District Council ranger Oliver Price talking to the King Charles School pupils about the district's nature reserves.
---