River rescuer hailed a superhero
12 July 2017

The mother of a girl plucked from the River Severn has hailed her rescuer a superhero.

Wyre Forest District Council parks and open spaces operative Gasparo Russello was having a picnic with friends at Lincomb Lock on Saturday 17 June when he spotted two young girls in difficulty in the River Severn.

He dived in to the river and managed to reach 11-year-old Kacie Mai and her friend from the water as they were being swept downstream.

Gasparo said: "The girls had been paddling in the water minutes earlier, but when I looked again, the current had taken them and they were being carried downstream at speed. I don't think I'll ever forget the look on their little faces at that terrible moment.

"I jumped in and thankfully managed to reach them and bring them back safely to the riverbank."

Later that night Kacie Mai's mum Amy Bosbury posted her personal thanks to Gasparo on Facebook, saying: "My daughter nearly drowned in the river today. If it wasn't for Gasparo Russello she would have died. Words are never enough to thank the man that saved her. #superheroesdontalwayswearcapes."

This week, speaking at the family home in the Lickhill area of Stourport, she said: "If it hadn't been for Gasparo's immediate response I am convinced both girls would have drowned. I can't thank him enough for what he did. I wasn't there at the time, but went immediately as soon as I heard about the incident.

"My daughter is a strong swimmer and she went to the aid of her friend but was pulled under the water. She was crying and very shaken, saying how she thought she was going to die. I hope this serves as a timely reminder to everyone, especially with the summer holidays approaching, never to paddle or swim in the river. It is far too dangerous a place for children to be."

Gasparo also posted a warning on Facebook urging people not to enter the river – however tempting it might be during heatwaves. He wrote: "All I am going to say is please people I know it's hot but don't swim in the river!"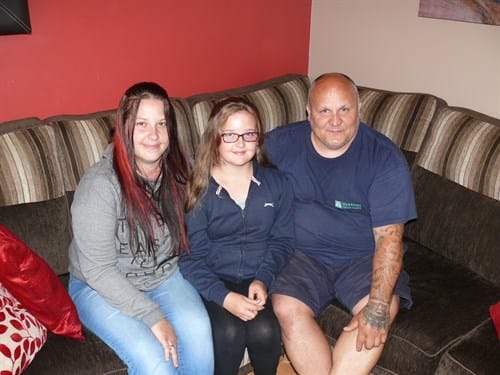 This week Gasparo's actions have been applauded by his bosses at Wyre Forest District Council.
Cabinet Member for  Operational Services Councillor Rebecca Vale said: "Everyone at Wyre Forest District Council is very proud of the way Gasparo acted in what must have been a very frightening situation.
"His quick thinking and swift action potentially saved the lives of these two girls and I join with their parents in thanking him for his bravery."
Photo shows a very grateful mum Amy Bosbury, 11-year-old Kacie Mai and her rescuer Gasparo Russello.
---