Community Ambassador Scheme helps St Basils
19 July 2017

Students from The Bewdley School and Sixth Form Centre have been helping to prevent youth homelessness in the West Midlands.

Community Ambassadors at the school organised a collection for St Basils' Kidderminster Foyer Project.  The students have been donating items for 'starter packs'.  This includes things like bath towels, dinner plates, tin openers and toilet rolls.  The packs are for young people moving on from the accommodation scheme; the idea being that the items may help them feel more comfortable and settle in quicker when in a new place.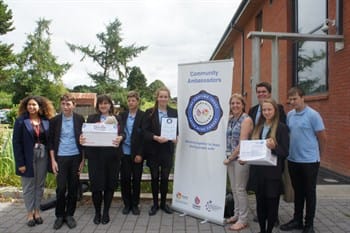 The Community Ambassador Scheme is an award-winning community safety project for youngsters.  It is managed by Safer Wyre Forest and The ContinU Trust.
Barrie Hodge, Head of Fundraising and Communications at St Basils, said:
"We truly appreciate this wonderful support from The Bewdley School and Sixth Form Centre.  The items collected by the Community Ambassadors are vital in giving a young person a great foundation to start from.  It is a commitment to their future which comes from people of the same age who may not relate to the issues that young people without a home face.  On behalf of all the young people we support from St Basils, thank you."
Safer Wyre Forest is managed by Wyre Forest District Council.  Councillor Juliet Smith is the Cabinet Member with responsibility for Culture, Leisure and Community Protection and she said:
"This is another wonderful example of how the Ambassador Scheme is working in the community and making a real difference.  The scheme is all about young people sharing positive messages with their peers in school and the wider community.  Topics such as safety, citizenship, wellbeing and health are all covered by the scheme and it is great to see young people coming together to help others in the district."
More information about the Ambassador Scheme can be found at http://www.communityambassadors.org.uk. 
---