Have your say on Local Plan
15 June 2017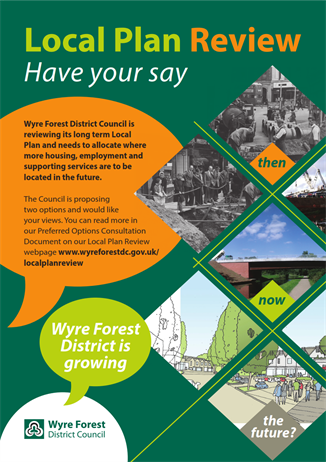 Residents, local businesses and stakeholders are being asked to have their say on Wyre Forest District Council's draft Local Plan Preferred Options document.  The important planning document covers topics such as how many new houses are required and where they will go, where new employment area should be and what additional services, such as transport and schools, will be needed to support development up until 2034.
The Council is proposing two options.  One option sees additional development concentrated to the east/south east of Kidderminster (Option A). The other option (Option B) would see growth more widely dispersed (particularly around Stourport-on-Severn and adjacent to Lea Castle, Kidderminster). The full details on the options are available at www.wyreforestdc.gov.uk/localplanreview . They can also be viewed at the Worcestershire Hub, Vicar Street, Kidderminster and in libraries in the district.
Councillor Marcus Hart, Leader of Wyre Forest District Council said:
"We need to hear from the community and get people taking part in this important consultation.  There are some difficult decisions to be made about where development should be and how to balance that with protecting the natural assets of our beautiful district."
Both options do include some development on Green Belt land and there are different implications for transport networks for the two approaches.
Councillor Ian Hardiman, Wyre Forest District Council Cabinet Member for Planning & Economic Regeneration said:
"According to the evidence gathered we know that the Council needs to plan for the development of 300 new houses per year up until 2034. Unfortunately not all of this can be accommodated on brownfield land, so regrettably this does mean there will need to be development in the Green Belt.  We are committed to protecting our Green Belt land and it is anticipated that the proposals will involve around 2% of the land allocated for Green Belt land in the district."
A series of drop in sessions has also been arranged for people to find out more about the Local Plan and how it may affect them.  They are taking place at:
| | | |
| --- | --- | --- |
| Date | Location | Time |
| Monday 10 July | Heronswood Primary School, Spennells, Kidderminster | 3:45pm-8:00pm |
| Wednesday 19 July | The Wyre Room, St George's Hall, Load Street, Bewdley | 2:00pm-7:00pm |
| Friday 21 July | Rowland Hill Centre, Kidderminster | 1:00pm-5:30pm |
| Saturday 22 July | Offmore Evangelical Church Hall, Kidderminster | 10:00am-4:00pm |
| Wednesday 26 July | Areley Kings Village Hall, Stourport | 1:30pm-6:30pm |
| Friday 28 July | Cookley Village Hall | 2:00pm-7:00pm |
| Saturday 29 July | Stourport Civic Hall | 10:00am- 4:00pm |
| Friday 4 August | St Oswalds Church Centre, Broadwaters Drive, Kidderminster | 2:00pm-7:00pm |
The deadline for responses is 5pm on Monday 14 August 2017.  Comments should be submitted by following the links from the webpage www.wyreforestdc.gov.uk/localplanreview or by emailing LPR@wyreforestdc.gov.uk.  They can also be posted to Planning Policy Team, Wyre Forest District Council, Wyre Forest House, Finepoint Way, Kidderminster, WORCS, DY11 7WF.
---