Cabinet backs play area transfer
17 March 2017

Leading Wyre Forest District Councillors have approved plans to transfer Far Forest Play area to Rock Parish Council.

Proposals –driven by the council's Localism Agenda – were approved in principle by members of the Cabinet on Tuesday (14 March).

The plan is to transfer the play area in Oakleaf Rise, Far Forest - and money set aside for its maintenance - to the parish council, which already operates another play area in the village.

The deal involves a binding legal agreement to ensure the site remains a play area in future years and will also need the approval of the Secretary of State.

Rock Parish Council requested the transfer after a unanimous vote in September 2016. Members of the public and residents will have the opportunity to comment on or object to proposals before any final agreement is reached.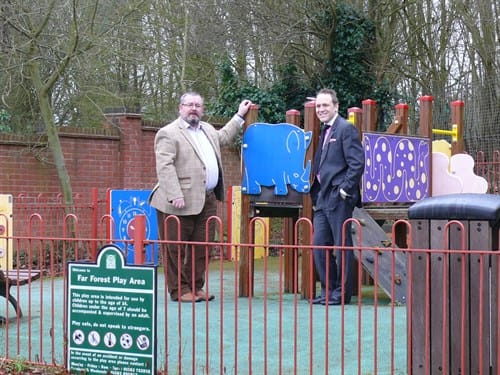 Council Leader and Cabinet Member for Localism Councillor Marcus Hart said: "We have a good and successful track record in Wyre Forest for involving parish and town councils and community groups in taking greater control over facilities and services in their local areas.
"It's a win, win situation that gives local communities the opportunity to tailor services to meet local needs and also safeguards non-essential services that the may be put at risk in these continuing difficult financial times."
Councillor Andrew Croot, Chairman of Rock Parish Council said:"As a Parish Council we are keen to take on Far Forest Play area.  We already have experience of maintaining another similar facility and feel that we would be able to make sure that this  popular play area remains for future generations. The council's Localism Agenda is giving us an opportunity to do this and we look forward to working on other projects too."
Wyre Forest District Council will now fulfil its legal obligations to advertise the transfer and consider any objections arising.
Picture shows (l-r) the Clerk to Rock Parish Council Stephen Clee and Wyre Forest District Council Leader Councillor Marcus Hart.
---