New gum-busting machine to clean up Wyre Forest streets
10 March 2017

Wyre Forest District Council has a new weapon in its armour to help keep our town centres clean – a new chewing gum removal machine.

The new equipment, which is worn as a back pack, uses a mixture of steam and detergent to quickly remove gum discarded on the streets.

The council's team of street cleaners will be incorporating gum removal in their regular cleansing programmes across the district.

It will also be available for schools and other organisations to hire, creating extra income for the council which is reinvested into services to benefit all who live, work and visit Wyre Forest.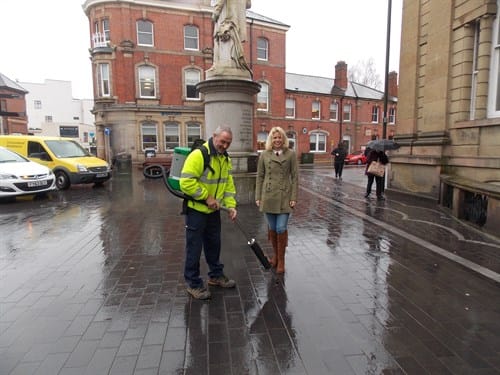 Street cleaner Dean Butler is pictured demonstrating the new machine to Cabinet Member for Operational Services Councillor Rebecca Vale in Kidderminster town centre last week.
Councillor Vale said: "Our vision is to keep the district looking clean and green, so the new equipment will be a great tool for us.
"Our aim is to persuade people not to throw chewing gum and litter on the streets in the first place but in the meantime this equipment will help spruce up the streets.
"Our New Year anti-litter campaign in Kidderminster was well-received  and we will continue to work with residents and visitors to keep our district clean and looking good."
---