New trade waste campaign for Wyre Forest businesses
10 March 2017

A new campaign to remind businesses about their responsibilities for disposing of trade waste gets under way in Wyre Forest this month (March).

All businesses in the district will be contacted by Wyre Forest District Council over the next few weeks to ensure they are aware of their "Duty of Care" legal responsibilities.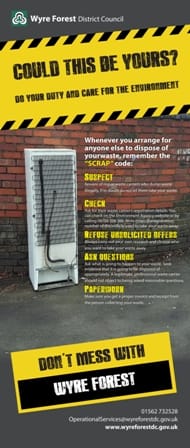 Community and Environmental Protection officers will also visit local businesses across the district offering advice and guidance on managing their waste legally.
Anybody who produces waste as a result of running a business – including those who run a business from home, such as child-minders,  mobile hairdressers and beauticians - must ensure  it is managed and disposed of correctly under the Environmental Protection Act 1990.
This includes arranging for their trade waste to be disposed of properly by a licensed operator. No trade waste should ever be placed in domestic bins.
Business owners also have a responsibility to ensure anyone they employ to remove their waste is properly licenced, by checking on a national Environment Agency database by logging on to https://environment.data.gov.uk/public-register/view/index
Anyone who fails to comply with the law could receive a Fixed Penalty Notice of up to £300 or face prosecution in court and face much higher unlimited fines.
Cabinet Member for Operational Services at Wyre Forest District Council, Councillor Rebecca Vale said: "It's important that businesses are aware of their responsibilities so they don't fall foul of the law.
"Our aim is to get that message out to Wyre Forest businesses as clearly as we can. If you are running a business then don't place your trade waste in domestic bins. And ensure that whoever you employ to remove your trade waste is properly licensed.
"This campaign is part of our ongoing commitment to keep
the district clean, green and looking good."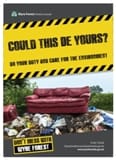 ---