Economic boost from flagship arts festival
17 November 2017

Independent reviewers have given this year's Kidderminster's Arts Festival a huge round of applause for the economic benefits it has brought to the district.

Market research company Earthen Lamp interviewed local businesses and some of the thousands of visitors attending the 183 events held as part of this year's festival on behalf of organisers from Wyre Forest District Council.

Their findings show that KAF generated £223,000 in economic activity – a rise of 17.4% on their calculations in 2015. Their report shows that 18,415 people actively attended the range of music, dance, theatre, workshops, exhibitions, installations and outdoor shows during the two week flagship event in August.

The researchers estimate that another 150,000 people were passive visitors, mainly shoppers who were passing by and able to enjoy a taste of the variety of arts events taking place in the town centre.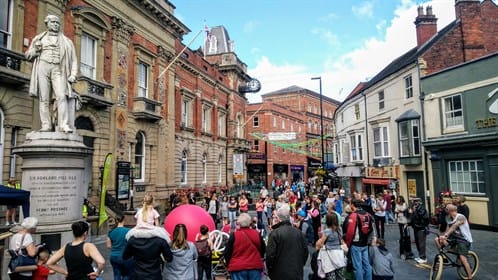 Over 160 artists contributed to the diverse programme, with a high satisfaction rate among people attending with the majority of visitors rating the quality, variety and enjoyment of events as excellent or good.
Cabinet Member for Culture, Leisure and Community Protection at Wyre Forest District Council, Councillor Juliet Smith said: "KAF 2017 was another fantastic festival. I've had many people say how much they enjoyed seeing the town brought to life in a festival of performing and visual arts.
"I'm delighted that this independent report is also able to demonstrate the festival's economic benefits for the district. In future years we hope to work and engage more with local businesses so we can make even more of what continues to be a popular event in the town's calendar."
---