Mayors thank district's award-winning Community Ambassadors
28 November 2017

Around 50 high school 'Community Ambassadors,' were invited to take tea in the Mayor's Parlour at Kidderminster Town Hall this week and meet the Mayors of Kidderminster, Bewdley and Stourport.  

The invitation was in recognition of the fantastic work the Community Ambassadors carry out across Wyre Forest in schools and local communities, raising awareness and promoting key community safety, citizenship and wellbeing messages to their peers.    

The visit included a talk and tour on the history of the Mayor's Parlour and Town Hall and gave the Community Ambassadors an opportunity to share their experiences of the role and how they hope to make a difference. 

The Community Ambassador Project recently won the "Young Persons Safety Award" in the Suzy Lamplugh National Personal Safety Awards 2017, given to a young person or group who have improved the personal safety of others by running projects around personal safety, such as bullying and staying safe.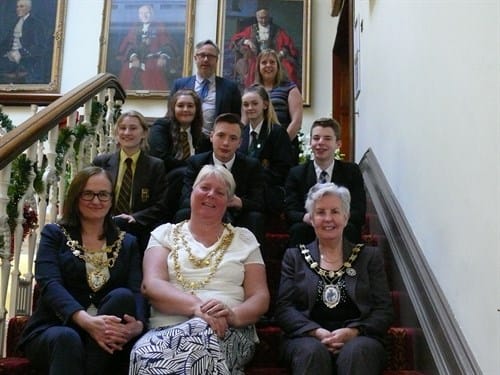 The project, managed by Safer Wyre Forest and The ContinU Trust, operates in The Bewdley School and Sixth Form Centre, King Charles I School, Kidderminster, Stourport High School, Wolverley CE Secondary School, Baxter Business and Enterprise College, Hagley Roman Catholic High School and Haybridge High School and Sixth Form.  It was set up in 2014 and is funded by a grant from the West Mercia Police and Crime Commissioner and is now in its fourth year.
Councillor Juliet Smith, Cabinet Member for Culture, Leisure and Community Protection at Wyre Forest District Council, said: "Our Community Ambassadors do a fantastic job and are a credit to the district. Everyone was delighted when the scheme won national recognition at the National Personal Safety Awards earlier this year.
"I'm sure the Mayors of Kidderminster, Stourport and Bewdley were fascinated to personally meet and hear directly from the Community Ambassadors about the work they do to raise awareness of community safety issues among our young people."
To learn more about Community Ambassadors and watch their promotional film showcasing their role, visit their website www.communityambassadors.org.uk
Caption:
Photo shows the three Mayors, Councillor Anna Coleman (Bewdley) , Councillor Nicky Gale (Kidderminster) and Councillor Vi Higgs (Stourport) with students from Haybridge High School and Sixth Form, Bewdley School and Sixth Form Centre, Baxter Business and Enterprise College, Stourport High School, King Charles I School and back row: Michael Conroy-Harris (The ContinU Trust) and Jeannette Lane (Safer Wyre Forest).
---