Council leaders launch White Ribbon campaign
15 November 2017

Council leaders in Wyre Forest are backing this year's White Ribbon campaign to tackle domestic abuse in the area.

They are joining councils from across the county to support the annual campaign which is being coordinated locally by Safer Wyre Forest in conjunction with The Worcestershire Forum Against Domestic Abuse.

The campaign runs from Friday 24 November, the International Day for the Elimination of Violence Against Women, to Sunday 10 December, International Human Rights Day.

During this period supporters will be urging people to wear a white ribbon, and talk to their family and friends about domestic violence in the hope that people who are experiencing problems will know they are not alone and will know where to find help.

In Worcestershire there were 11075 domestic abuse crimes/incidents reported to the police (up 6.2%) and 5754 children were exposed to domestic abuse between July 2016 and June 2017.

Estimates suggest only 30% of domestic abuse gets reported to the police.  Over the same period, calls to the Worcestershire Domestic Abuse helpline were up 26.8%.  Campaigners view this increase as positive, as it reflects the increased trust and confidence of victims to report.

Please support the campaign by wearing a White Ribbon, available from the Worcester Hubs, Children's Centres and at our stand in the Swan Centre, Kidderminster from 10.00am – 12.00 on Thursday 7 December.  Please also make your pledge at www.whiteribboncampaign.co.uk/worcestershire

This year's campaign in Worcestershire will highlight Clare's Law  - a Domestic Violence Disclosure Scheme (DVDS) – which allows people to find out about their partner's violent or abusive past.

The law was introduced in 2014 after Clare Wood was murdered by her ex-boyfriend – who had a history of violence against women – in 2009. The campaign is called 'Worried' and further information about this and domestic abuse in general is available at www.worcestershiredomesticandsexualabuse.co.uk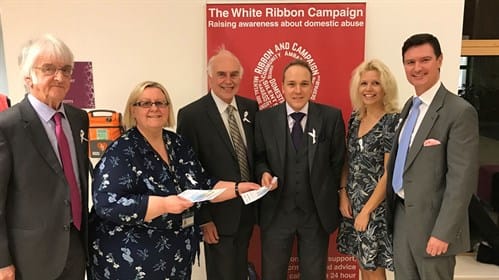 Councillor Juliet Smith, Cabinet Member for Culture, Leisure and Community Protection said: "By wearing a white ribbon – and making a pledge to the White Ribbon campaign - we're showing that we don't keep quiet, accept or condone violence or abuse.
"In Worcestershire we are hoping to use this year's White Ribbon campaign to  highlight Clare's Law. Since it was introduced three years ago hundreds of people who were worried about their partner's history have been helped.
"So this year the message is – please don't worry in silence – if you have any concerns just pick up the phone and dial 101 or visit any police station.   The scheme will help you to make a more informed decision on whether to continue a relationship and will provide further help and support to assist you in making that choice."
Please don't suffer in silence; free confidential advice for women and men is available 24 hours a day by trained workers on 0300 980 3331.
For more information about Safer Wyre Forest please visit www.nwcsp.org or follow them on Twitter @saferwyreforest.
Members of Wyre Forest District Council's Cabinet are photographed from left to right: Councillor Ian Hardiman, Councillor Juliet Smith, Councillor Chris Rogers, Councillor Marcus Hart, Councillor Rebecca Vale and Councillor Nathan Desmond.
---