Local heroes pick up No Barriers Awards 2017
27 October 2017

Author, mentor and voice-over artist Sas Freeman was guest of honour at this year's No Barriers, the Mike Oborski Awards which recognise individuals and organisations that go the extra mile to support people with disabilities in Wyre Forest.

Twenty individuals and organisations picked up awards at this year's ceremony, held at Wyre Forest House in Kidderminster.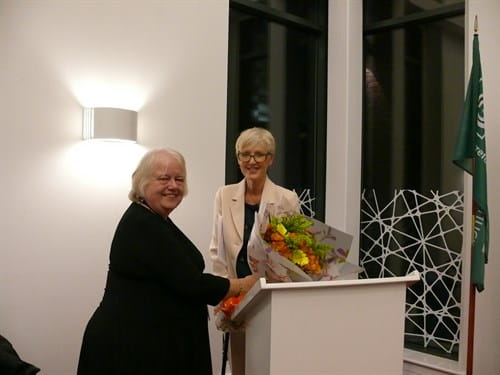 The evening kicked off with a warm welcome from Ray Brookes from the Community Housing Group and featured an inspirational speech from Sas who suffered two strokes seven years ago. After struggling to find information herself, Sas went on to write a book – Two Strokes Not Out – for other stroke victims, with proceeds going to the Stroke Association.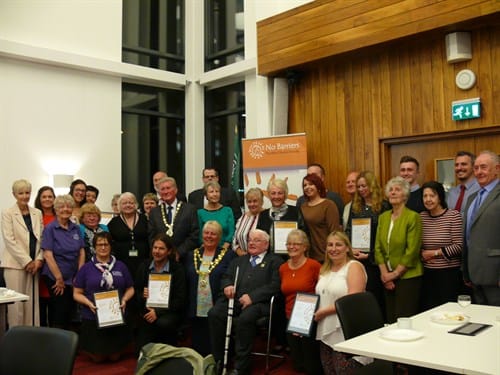 Councillors Fran Oborski - who devised the awards scheme with late husband Mike Oborski - and Nicky Gale, the Mayor of Kidderminster, handed out the awards and the event was closed by Councillor David Little, the Chairman of Wyre Forest District Council.
Councillor Oborski said: "We decided to set up an annual awards scheme to recognise individuals and organisations that go the extra mile for people with all kinds of disabilities and since 2007 we have gone from strength to strength with more nominations each year."
No Barriers, The Mike Oborski Awards 2017 were awarded to:
Marks and Spencer Cafe Kidderminster
Friends of Springfield Park and The Blossom Tree Cafe
Chris Millington
Audrey Darlington, Riverside Care Agency
Phil Harris, Community Transport
Elaine Ball and Eleanor Mouzer, Wheely Different Theatre Company
Alison Coley-Smith, Reach
Sarah Davis, Wyre Forest District Council
SPAR, Lower Lickhill Road
Button Bridge Foods
NISA , Woodbury Road North
Tesco, Severn Road, Stourport on Severn
The Coffee Shop, Co-Op, Stourport
Faded to Fabulous Tearoom
Bon Marche, Kidderminster
Loom and Shuttle
Caroline Caldwell and the volunteers at the Stourport Civic Group
The Sports Development team at Wyre Forest Leisure Centre
Alan Steadman
Mike Randle and the volunteers at Sight Concern, Wyre Forest branch
View our gallery of images from the 2017 Awards Ceremony
---