Grab yourself a garden waste offer this May!
27 April 2018

*THIS OFFER WAS FOR MAY 2018,  TO SEE THIS YEAR'S OFFER CLICK HERE*

If you're heading out into the garden this May then don't miss out on the latest brown bin special offers from Wyre Forest District Council.

The council is offering a special promotion throughout the month of May and waiving the usual £20 one-off start up fee for new garden waste customers.

New customers will pay only for their fortnightly collections. A full year's subscription to the scheme costs just £48.50 per annum for a large 240 litre bin. The service operates from March to December and during a full season includes a minimum of 20 fortnightly collections - at just £2.40 per fortnight.

From June 2018 the council will be extending the service to offer customers with smaller gardens a 140 litre bin at a reduced cost of £32 per year, or 20 collections for £1.60 each.

Anyone pre-ordering the smaller bins during May will also qualify for the special offer and will not have to pay the one off £20 subscription.

Existing customers of the service also have reason to celebrate – they can take advantage of a separate offer and save £10 on a vehicle MOT.

Anyone who currently subscribes to the garden waste scheme – including new customers who sign up for brown bin collections before Saturday 30 June - will pay just £30 for an independent MOT from the council's team of qualified mechanics.

Collections provide a hassle-free way of getting rid of garden waste. This includes grass cuttings, hedge and shrub clippings, weeds, cut flowers, leaves, twigs and bark.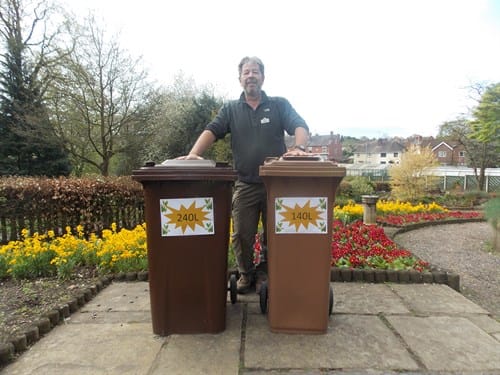 Steve Jones, business development officer at Wyre Forest District Council, said: "The garden waste service has become more and more popular with residents.
"Having a garden waste collection can save you time, money and the inconvenience of taking your garden waste to the tip – you will also do your bit for the environment. And income generated from both garden waste and MOTs is reinvested into front-line council services."
For more information about the council's garden waste service please visit www.wyreforestdc.gov.uk/the-depot/garden-waste-collections
or call 01562 732528.
Professional gardener Adrian Leonard, from the Emily Jordan Foundation's Twigs Project in Brinton Park, Kidderminster, is pictured with the new range of brown bins available from Wyre Forest District Council.
---