5 Ways to Wellbeing: Give
09 August 2018

'Give' is the next theme in a year-long campaign to help residents improve their mental wellbeing.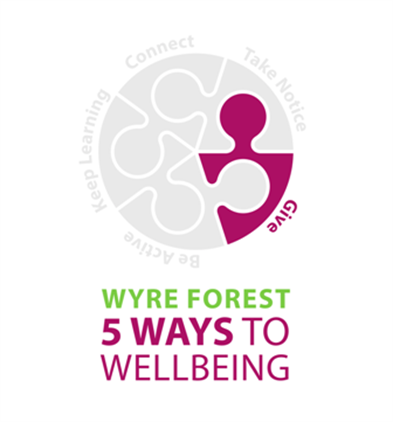 The '5 Ways to Wellbeing' campaign has been organised by Wyre Forest District Council and promotes everyday things people can do to help improve their mental health.
The 5 Ways are, 'Be Active', 'Connect', 'Keep Learning', 'Take notice' and 'Give'. During June and July the council focussed on the 'Be Active' theme, now it is highlighting 'Give'. 
Throughout August and September the council will actively promote different ways of giving from volunteering, organ donation and much more. There will be a whole range of ideas and suggestions to help people understand the theme on the council's website www.wyreforestdc.gov.uk/5Ways .
Giving back to your community will also be the focus at the upcoming Volunteer Fair on Thursday 20 September at Kidderminster Town Hall from 10am-2pm. A wide range of organisations will be there promoting all the great projects residents can get involved in on their doorstep. For more information visit www.wyreforestdc.gov.uk/volunteerfair.
Councillor Chris Rogers, Cabinet Member for Housing, Health and Wellbeing said: "The theme of give is a great opportunity to bring people together. Throughout the next two months we want to show everyone that giving up a few hours of your time to volunteer or giving blood or supporting a charity can not only improve the lives of people around you but your mental health too."
To find out more about Worcestershire Works Well, the free accreditation scheme supporting businesses to improve the health and wellbeing of their employees visit www.worcestershireworkswell.co.uk.
---