Council supports Pickup Artists' recruitment campaign
10 August 2018

A new campaign to recruit more community-minded volunteers to join the district's celebrated litter-picking group The Pickup Artists has received a boost from Wyre Forest District Council.

The council has dedicated a new eye-catching promotional sign on the Bull Ring roundabout in Kidderminster town centre advertising the Facebook-based group which has held numerous community litter picks around the district throughout the year.

The group – led by Michelle Medler - hopes the sign will encourage more volunteers to join in their crusade to make the district clean and free of litter.

Wyre Forest District Council regularly supports The Pickup Artists by provide litter-picking equipment and black bags as well as disposing of collected litter.

Cabinet Member for Operational Services Councillor Rebecca Vale said: "One of Wyre Forest District Council's top priorities is to keep the district clean, safe and looking good and it is fantastic to be able to work with local people such as The Pickup Artists to make that a reality.

"We will continue to support the great work they do and I hope they recruit more people as a result of this eye-catching sign. In an ideal world litter wouldn't be dropped in the first place and we will continue to campaign and use the powers we have to take action against people who litter our streets."

Michelle said: "Sponsoring the most beautiful island in the middle of town is a great way for visitors to Kidderminster to see our name and maybe take an interest in what we do. Our numbers of active litter pickers is growing daily and the results can be seen when driving around. The Pickup Artists are making a huge difference to the litter problems and I hope we can continue to grow and inspire others to take pride in where we live.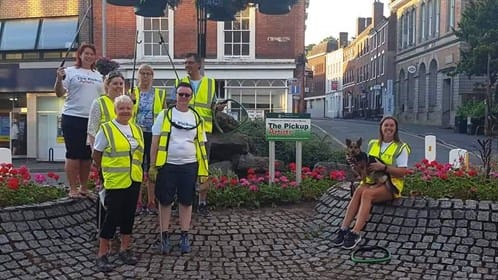 Volunteers are pictured from left to right Wendy Garrett, Sarah Davis, Jan Gough, Jane Barnbrook, Karen Pullen, Paul Colson and Michelle Medler, right, with dog Locket.
Read all about The Pickup Artists here.
---