Sustainability event goes down a storm
14 February 2018

Eco-conscious people arrived in record numbers to the Greener Living Fair on Saturday (10 February).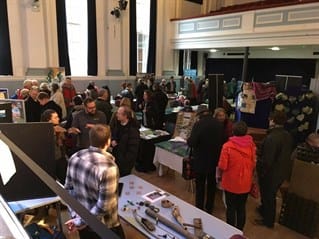 Kidderminster Town Hall opened its doors to members of the public interested in all things green. More than 500 attendees ensured this year's free event, organised by Wyre Forest District Council and in partnership with Transition Kidderminster, was a huge success.
A vast range of organisations were on hand to provide useful information and advice on a wide range of environmental issues. Some of the stalls at the fair included Severn Trent, Kemp Hospice Up Cyclers, Greener Funerals, Wyre Forest Rangers, The Cycle Forum, Fareshare and Kidderminster's Beekeepers.
Fair-goers brought along a wide array of broken, damaged and torn items from laptops to watches for free advice and repair from The Repair Cafe. Free sewing workshops proved to be hugely popular too. The Sewing Repair Team helped beginners to the most experienced improve their stitching skills.
The Vegan caterers sold out of their delicious plant-based foods. Free Fairtrade tea, coffee and hot chocolate also went down a treat.
Councillor Chris Rogers, Cabinet Member for Housing, Health and Well-being, said: "We've received a number of positive reviews since the event. It's great to see the local community engaging with environmentally aware organisations that support and enable a greener more sustainable world".
Anyone who missed the event in Kidderminster will have an opportunity to go to the next Greener Living Fair on Saturday 24 March between 10.30 and 14.30 at St George's Hall, Bewdley.
For more information about the Greener Living Fair, please visit www.wyreforestdc.gov.uk/greenerlivingfair.
You can also follow us on Twitter (@wyreforestdc) using the hashtag #greenerliving or Facebook (Wyre Forest District Council).
---