5 Ways to Wellbeing
09 January 2018

A new year-long campaign to help residents improve their mental wellbeing is being launched by Wyre Forest District Council.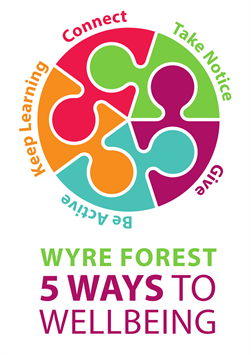 The campaign is called 5 Ways to Wellbeing  and promotes everyday things that people can do to help their feelings of overall happiness and wellbeing.  The 5 Ways are, 'Be Active', 'Connect', 'Keep Learning', 'Take notice' and 'Give.'  The themes were developed by NEF (the New Economics Foundation) as part of the government's Foresight Project on Mental Capital and Wellbeing.
To start the campaign the team will be outside Kidderminster Town Hall on Thursday 18 January. They will be giving advice and information on how people can join in.
Councillor Chris Rogers, Wyre Forest District Council's Member for Housing, Health and Well-being said:
"We're lucky; we live in a beautiful part of the country with lots of opportunities for people to adopt the 5 Ways into their lives.  To help we're promoting different activities and groups which are on offer in the district.  5 Ways to Wellbeing reminds people to make the most of living and working here, and to make use of all the resources around us, that can help us to improve our own wellbeing."
During February and March the council will be focussing on the 'Connect' theme. More information will be available on www.wyreforestdc.gov.uk/5ways.
---