Celebrate those who see no barriers
11 July 2018

An award scheme which recognises those that go the extra mile for people with disabilities is now open.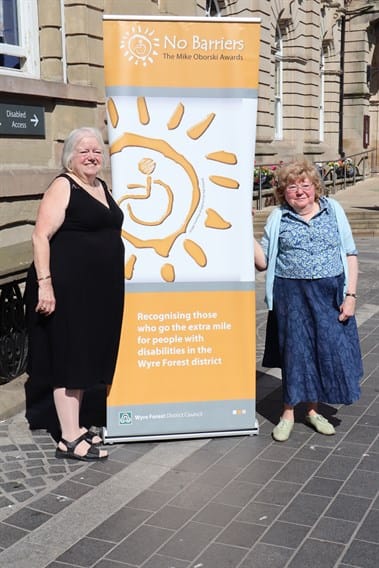 The annual No Barriers, The Mike Oborski Awards is back and calling on residents to put forward individuals, businesses and organisations that go above and beyond.
Shortlisted nominees will be invited to a ceremony in October where winners will receive an award celebrating their achievements.
The awards are also open to those who have given particular consideration for the needs of all people within the community, for example nursing mothers.
Councillor Fran Oborski, Chairman of No Barriers, The Mike Oborski Awards said:
"This is the eleventh annual No Barriers award ceremony. In that time I have seen a huge amount of generosity, compassion and kindness shown by residents to those in need of a helping hand.
"These awards are not aimed at people who support those with disabilities as part of their day job. They are for those who take it upon themselves to help people with disabilities because it's the right thing to do. There are lots of examples of support and service provided over and above those required in standard rules and regulations but they are rarely publicly acknowledged.
"Previous winners can also be nominated again for the awards so please do re-nominate those who continue to break down barriers".
A panel comprising of representatives from local private and public sector organisations and the Kidderminster Shuttle will judge the nominations for the No Barriers, The Mike Oborski Awards.
Nominations can be made at www.wyreforestdc.gov.uk/nobarriers or by picking up a form at the Wyre Forest Customer Service Centre, Kidderminster or Wyre Forest House. The closing date is Friday 7 September 2018.
The awards event will be held in the Council Chamber, Wyre Forest House, Kidderminster on Thursday 18 October 2018 at 6.00pm.
(Picture shows from left to right: Councillor Fran Oborski, Chairman of No Barriers, The Mike Oborski Awards and panellist Pauline Annis)
---