Celebration of inspirational young people
25 July 2018

Community-minded young people from across the district's schools were celebrated at this year's Young Citizenship Celebration Evening at Kidderminster Town Hall.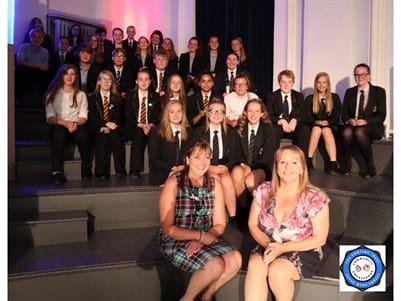 This sixth annual event, which celebrates the wide range of citizenship work carried out by young people from Wyre Forest and Hagley schools, was once again organised by Safer Wyre Forest and The ContinU Trust.
As well as recognising the range of citizenship work undertaken by students during the 2017–18 academic year it also shines a light on the many positive activities done outside school, in conjunction with local youth and emergency services.
The event started by highlighting the success of the long-running Young Citizens' Challenge, in which Hereford & Worcester Fire and Rescue Service, West Mercia Police and other partner organisations deliver key safety messages to Year 6 children from local primary schools on subjects including 'stranger danger', water safety and first aid.
The Challenge, held over a two-week period, involved 1000 children working their way through a series of mock scenarios and this year's winning school was Burlish Park Primary School. The trophy was presented by Chief Inspector Jim Baker from West Mercia Police and Station Commander Phill Sanders at Hereford & Worcester Fire and Rescue Service.
There was also a presentation of another successful year's work by the outgoing High School 'Community Ambassadors'.  This included the viewing of one of their new awareness raising series of short films, made in partnership with Connecting Neighbourhoods CIC, called #TeensSpeakAbout tackling mental health issues, anti-social behaviour, sexting and hate crime.
The film is available at www.communityambassadors.org.uk
The evening also featured the formal induction of a new intake of 60 Year 10 Community Ambassadors, recruited from the eight partner high schools in the Trust to help promote key community safety, citizenship and wellbeing messages to their peers for the coming year. Badges were presented to the new ambassadors by the West Mercia Deputy Police and Crime Commissioner, Tracey Onslow.
West Mercia Deputy Police and Crime Commissioner, Tracey Onslow said: "I felt honoured when asked to present these awards on behalf of PCC John Campion. They are outstanding young people, whose citations showed what a valuable contribution they are making to promoting community cohesion and community safety. John is very pleased to support the Community Ambassador Scheme, via grant funding through the North Worcestershire Community Safety Partnership, as part of his promise to build a safer, more secure West Mercia."
Tracey Onslow closed the evening with the 'Be The Change' award for older students, nominated by head teachers and principals across the ContinU Trust for their exemplary contribution to the local and wider community over the past year.
Rob Chadwick of the ContinU Trust said "This was the sixth year of what has become an established local celebration of the many positive contributions made by the young people of the Wyre Forest and Hagley within the ContinU Trust.  Our members believe passionately in building confidence and resilience in students alongside academic achievement. This year's awards event once again provided the clearest evidence of how that commitment is supporting young people, as they become active citizens and a force for good in our community."
Councillor Juliet Smith, Cabinet Member for Culture, Leisure and Community Protection said "Safer Wyre Forest, part of North Worcestershire Community Safety Partnership, was delighted to have had the opportunity to work with the ContinU Trust again to put on this worthwhile event. It is clear that there are many young people in Wyre Forest who make positive contributions to their communities and schools and it is great to be able to come together like this, recognise the good work that they do and show them how proud we are of them and what they achieve."
Photo shows:  The 2018/19 Community Ambassadors with WM Deputy PCC Tracey Onslow
---