Artwork transforms Kidderminster subway
28 March 2018

A Kidderminster subway has been given a makeover thanks to a Safer Wyre Forest and Kidderminster Arts Festival (KAF) project.

The passageway between Matalan and Mill Street, under the Proud Cross ringway has been transformed with a piece of colourful artwork by two talented artists.

The design was created with support from the public during last summer's KAF and the project engaged residents in the town's textile heritage. The chosen design was inspired by print designer Lucienne Day and is based on the beautiful colours of the lorikeet birds that can be found at the West Midlands Safari Park.

Lucienne Day was a British textile designer who worked extensively for Kidderminster's carpet industry in its textile hey-day and some of the patterns she created can be seen worked into the feathers in the subway design.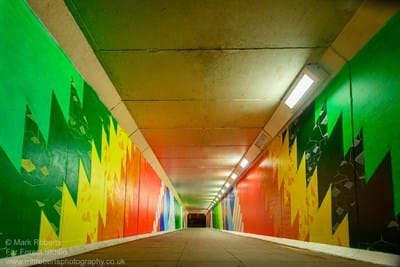 It took artist, Colin Davies and installation expert Liam Murray, nine days to install the piece. It was done in two stages, the first stage was during August 2017 and then it was completed in February of this year.
Safer Wyre Forest funded the project thanks to a grant from the West Mercia Police and Crime Commissioner.
Kathryn Underhill, Community Safety and Partnerships Officer at Wyre Forest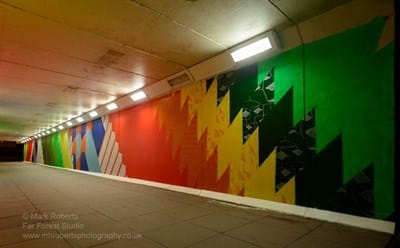 District Council, said: "This subway has one of the highest footfalls in the area. We hope that the improvements have made it feel safer and look more welcoming to residents and visitors. There have already been some very positive and enthusiastic comments on social media."
West Mercia Police and Crime Commissioner John Campion said: "This is an excellent example of a Community Safety Partnership project, tackling local issues and working at the heart of the community. I have directed much of my community funding through CSPs because of this and it's great to see that a well-used space, like this subway, is being transformed into something that people will hopefully find inspiring and thought provoking."
Photographs courtesy of Mark Roberts.
---