Community Localism Fund launches for 2018
18 May 2018

Community groups and organisations in Wyre Forest are invited to apply for grants and funding from Wyre Forest District Council.

Up to £50,000 is available from the council's Community Localism Fund to help local initiatives that improve neighbourhoods and residents' quality of life.

Since 2014 around £200,000 has gone to local causes under the Localism agenda – and last year alone more than 30 separate organisations were supported.

Projects supported included a contribution to Severn Area Rescue Association Wyre Forest for new underwater search equipment, grants to help repair and maintain village halls and club houses, money to support community events in local parks, additional litter bins, and funding for community transport schemes.

This year as well as offering one off grants, the council is eager to attract bids from organisations interested in taking control of local assets who would then receive financial support to run them from the district council.

Council Leader Councillor Marcus Hart said: "Our Community Localism Fund has been a terrific success and has allowed local organisations to do great work that has had a direct and positive impact on the lives of local people.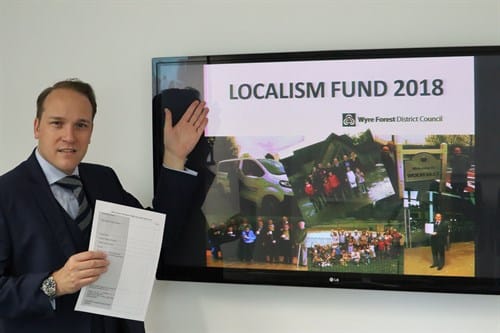 "Communities have been able to take on projects to address specific issues that matter the most to them and we want this to continue.
"This year we would also love to hear from community groups and parish councils that may want to take on greater responsibilities for local services like litter picking or emptying bins, or interested in taking control of assets, such as public toilets or paddling pools with help from us."
To discuss an asset transfer proposal please contact community safety and partnerships officer Kathryn Underhill at kathryn.underhill@wyreforestdc.gov.uk or 01562 732956.
Applications are welcome all year round. The newly revised application form and list of organisations that have received funding is available at www.wyreforestdc.gov.uk/localismfund
---