Chance to save on energy bills
30 November 2018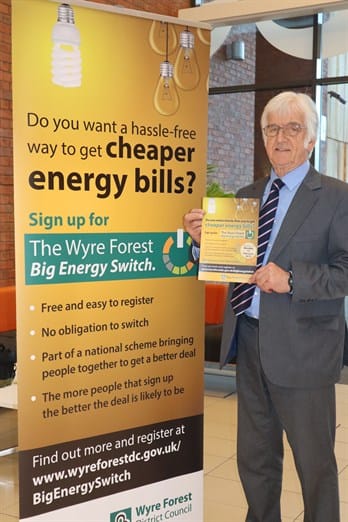 The scheme is backed by Wyre Forest District Council and it helps people to use collective bargaining powers to get a better deal. People who took part last time saved on average £203 a year. Registration opens on Tuesday 4 December and closes on Monday 11 February.
A competitive process will then take place to negotiate
with energy companies to find the best deal for the group. Those who have registered their interest will be given a personalised offer showing how much they could save by switching.
It is free to register for the scheme and there is no obligation to switch.
Councillor Ian Hardiman, Wyre Forest District Council's Cabinet Member for Housing, Health and Wellbeing, said:
"The Big Energy Switch is a great way to see if you could save money on your energy bills by switching supplier.
The great thing is it's free and easy to register and most people get a good deal from energy suppliers.
Last time the average saving was just over £200 a year.
The more people who register the lower the tariff will be for everyone involved, so we're encouraging everyone to sign up and see what offer they receive."
The amount of money that can be saved will vary depending on individual factors such as the current tariff, payment method, consumption and the winning bid.  There is no guarantee that an offer will be the cheapest but the model aims to ensure the majority of participants are offered lower annual energy bills than they are currently paying or are available at the time of the offer.
Registration is at www.wyreforestdc.gov.uk/BigEnergySwitch . People should have their latest energy bill handy as the details are needed during the registration process.  
For more information visit the www.wyreforestdc.gov.uk/BigEnergySwitch or call the Big Community Switch 0800 048 8285.
---