Council leaders launch White Ribbon campaign
14 November 2018

Council leaders in Wyre Forest are urging members of the public to support this year's annual White Ribbon campaign to highlight all forms of domestic abuse.

They are joining councils from across the county to support the annual campaign which is being coordinated locally by Safer Wyre Forest and Wyre Forest District Council.

The campaign runs from Saturday 24 November, the International Day for the Elimination of Violence Against Women, to Monday 10 December, International Human Rights Day.

During this period supporters will be urging people to wear a white ribbon, and talk to their family and friends about domestic abuse in the hope that people who are experiencing problems do not suffer in silence and know where to find help.

Hilary Hollis from Safer Wyre Forest, with Councillor Juliet Smith.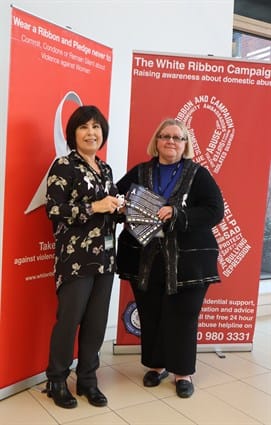 This year's campaign promotes two free helplines where people affected by domestic abuse can get confidential advice and support. There's a dedicated number for women,  0800 980 3331,  and for the first time another for men 0800 014 9082.
In Worcestershire campaigners hope to highlight 'Worried', also known as Clare's Law which allows people to find out about their partner's violent or abusive past.
The law was introduced in 2014 after Clare Wood was murdered by her ex-boyfriend, who had a history of violence against women, in 2009. To find out more about Clare's Law and further help and advice visit www.worcestershiredomesticandsexualabuse.co.uk
Please support the campaign by wearing a White Ribbon, available locally at, Wyre Forest House, Wyre Forest District Council's Customer Services Centre at Kidderminster Town Hall, Community Housing Group offices and all 10.32 Children's Centres.
Councillor Juliet Smith, Cabinet Member for Culture, Leisure and Community Protection, said: "In Worcestershire we are all standing together and saying NO to domestic abuse in all its forms.
"By wearing a white ribbon we are showing our commitment to ending domestic abuse and sexual violence and promoting respectful relationships.
"The message is – don't suffer in silence. If it's happening to you or you are worried about someone else, please contact the free helplines for confidential support and advice."
For more information about Safer Wyre Forest please visit www.nwcsp.org or follow them on Twitter @saferwyreforest and Facebook.
---