Horrors of litter highlighted in new campaign
25 September 2018

The horrors of a range of environmental crimes from littering to fly-posting and graffiti will hit home as part of a new Halloween-themed campaign across Wyre Forest this autumn.

Wyre Forest District Council will be promoting a new Don't Be A Monster – Bin Your Litter public information campaign across the district, with Halloween-themed posters on litter bins and across social media channels.

The campaign aims to encourage people to take greater pride in their surroundings and will also help promote new tougher fines for a range of environmental offences which were introduced in Wyre Forest on 1 September 2018.

The council's new "get tough" approach sees fixed penalty notices increase from £75 to £150 for offences including littering, fly-posting and graffiti. Wyre Forest District Council's new penalties are in line with the Government's new National Litter Strategy for England, adopted in April 2018.

The district's enforcement officers will issue the fixed penalty notices, which will be reduced to £100 if paid promptly.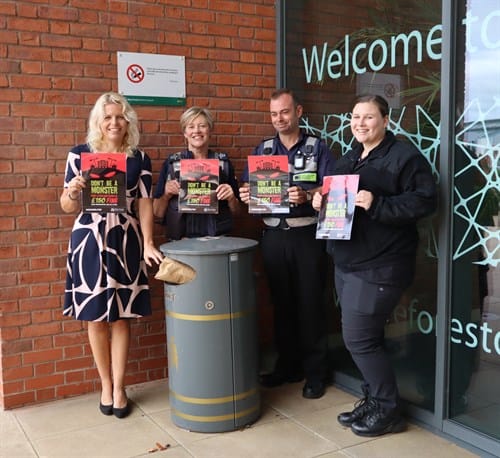 Cabinet Member for Operational Services Councillor Rebecca Vale said: "We spend a lot of time, effort and money keeping our district clean and looking good with lots of support from residents and visitors.
"Many local people share our vision and want to work with us, as the success of Kidderminster's now-famous litter-picking Facebook group The Pick Up Artists has shown. I'm delighted to say it was this group which inspired our new Halloween-themed campaign.
"We will continue to educate people to look after their local environment, but we must also use our legal powers to act when necessary.  If a small minority of people insist on dropping litter, putting up illegal posters and spoiling our surroundings with graffiti, then they must pay the consequences."
So Don't Be A Monster – Bin Your Litter!
---