New professional drivers motor to success
11 April 2019

Four newly qualified professional drivers are ready to hit the road after successfully completing a specialist training course provided by Wyre Forest District Council.

The graduates have all completed a CPC professional driving course delivered by the council's in-house professional driving instructor Glyn Owen.

As well as training its own staff, the council offers a range of courses including CPC professional and Class C LGV driver training to the general public and those employed by other local firms.

The courses help people gain their professional driving qualifications as well providing refresher courses drivers need to complete every five years to maintain their licences.

Courses involve trainees spending time in the classroom and out on the road learning vital skills in the council's 26 tonne purpose-built training vehicle.

All of the council's driver training courses are fully accredited by the national Road Transport Industry Training Board and prices start from as little as £85.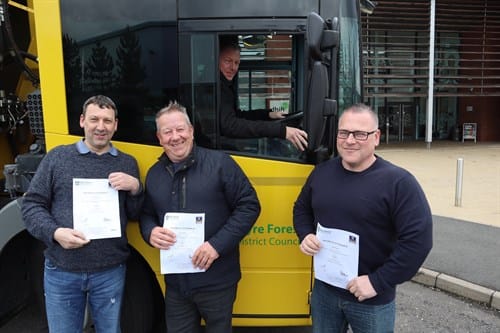 Glyn said: "We've had great feedback from trainees who have completed the courses. Some have come to us because they fancied a career change and wanted to gain their professional driver licences.
"Others come to us to complete the required training modules that have to be repeated every five years in order for them to maintain their professional driving licences.
"We work with both individuals and local businesses employing people as professional drivers."
To find out more about courses on offer visit www.wyreforestdc.gov.uk/drivertraining
The latest group of successful graduates from left to right - Malcolm Hawkins, Dave Peters, Noel Kellett (in cab) and Anthony Harrison.
---