New Detached Youth Team for young people in Wyre Forest
09 August 2019

Safer Wyre Forest and Kidderminster District Youth Trust (KDYT) are joining forces to deliver a new detached youth service to support local young people across the district.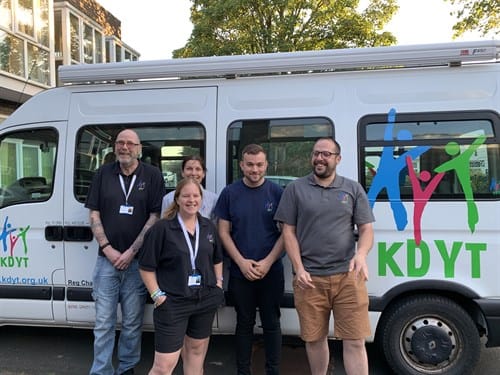 Safer Wyre Forest is providing funding for KDYT to employ a small team of youth workers, initially on a 12 month's basis, to work with young people across the district.
Working in the community, the team of five experienced and passionate youth workers will be working with young people, going out to where they are; this normally means on the streets and in public spaces. 
The aim of the Detached Youth Work Team is to positively engage with young people and help them to access support and activities, which may improve their opportunities in the future.
The team is highly experienced in working with all groups of young people; from some of the most challenging young people in the community, to groups who just like to 'hang out' and spend time with their friends.  The team will help link and support other organisations in the community including the council and police.
The team will be out and about up to three times a week. They will also be using the KDYT Youth Bus to go out to different areas, offering activities, advice and support.
Mike Oliver-Brooke, Operations Manager at KDYT said: 'The team will be working with a range of local partners to create more positive outcomes for young people and the wider community. They are a friendly and approachable team so if you see them out and about come and say hello. Staff will be recognisable by wearing KDYT logoed t-shirts and staff identification badges; all training and safeguarding procedures have been put in place.'
While the £20,000 grant enables the service to run for an initial 12 months, an evaluation will be produced and it is hoped the outcomes will attract long term funding.
Wyre Forest District Council's Cabinet Member for Culture, Leisure and Community Protection Councillor Helen Dyke said:  "I'm really pleased that we are able to support this project and to make it happen in Wyre Forest. There is strong evidence that working with young people in this way has a positive impact on their lives and helps bring the community together."
Hilary Hollis, Community Safety Project Officer and lead on behalf of Safer Wyre Forest, said: "KDYT has a wealth of experience and an excellent track record in youth work and I look forward to working closely with the team over the next 12 months.'
The project will complement KDYT's existing activities at the Youth House on Bromsgrove Street in Kidderminster, which are running as usual throughout the project.
Photo shows the KDYT Detached Youth Team. From left to right: Conan, Nicky, Matt and Adam. At the front: Cat.
---