More projects benefit from Localism funding
13 February 2019

Another eleven good causes have been awarded grants from Wyre Forest District Council's community Localism Fund.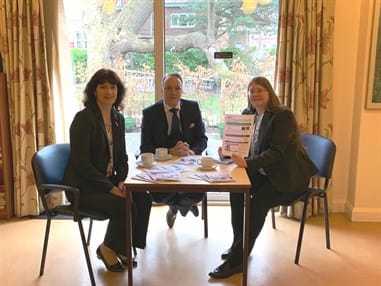 More than £8,000 will be shared by local groups to support a range of local improvements, from revamping the play area at Wolverley to upgrading sports facilities in Kidderminster and Stourport.
The largest grant of £2,500 goes to Wolverley Memorial Hall to help towards repairs and new play equipment.
Kidderminster Carolians Rugby Football Club has been awarded £1,300 towards a new rotary mower while Areley Kings Football Club will receive £1,000 towards new astro turf.
The latest round of grants includes a contribution of £1,000 to Age UK so they can extend support to local people in the district and a £1,000 grant to Kidderminster Male Voice Choir to help it raise its profile nationally and internationally.
There are also grants of £500 towards a new sensory garden at Offmore Primary School and £750 to help Broome Parish Council extend its litter picking service in order to keep the parish clean and looking good.
Organisations in Chaddesley were also awarded grants with Chaddesley Corbett Parish Council and Chaddesley Dementia Friends receiving £250 each. The Parish Council is using the money to upgrade its website with Dementia Friends putting it towards its activity programme.
The Civic Hall in Stourport has also had a helping hand with a £500 grant going towards enhancing the hall. Community transport charity, Dial-A-Ride has also received £250 to replace its minibus' step.
Council Leader Councillor Marcus Hart, who leads on Localism in Wyre Forest, said: "Scores of local organisations and groups have benefitted from Localism funding over the past year.
"We have also been able to help support the work of parish and town councils to tailor specific needs in their local communities.
"There is still time to apply for a Localism Grant before the deadline of Friday 15 March 2019. For more information visit www.wyreforestdc.gov.uk/localismfund."
Sam Humphray, CEO of Age UK Bromsgrove, Redditch & Wyre Forest said:
"As a local, independent and self-funding charity, we are very grateful to Wyre Forest District Council's Community Localism Fund for its grant of £1,000 to help support current demand for Age UK Bromsgrove, Redditch and Wyre Forest's free Information & Advice service in the Wyre Forest.
"Over the last twelve months, Age UK BRWF's Information & Advice service has handled over 7,300 enquiries (by phone and in person) supporting local older people across North Worcestershire - over £1m in benefit checks were successfully completed, putting more money into local people's pockets.
"This grant from the Localism Fund will be used to support a short-term increase in staffing hours to help reduce the current waiting times being experienced by members of the Wyre Forest community, whilst the we seek to find additional sources of funding to meet the rising demand (and increasing complexity of 'need') for this free service.
"Age UK BRWF could not do what it does without the involvement of the local community and we are very appreciative of this support.  If anybody would like to find out more about our local services and/ or opportunities to 'Get Involved' (including fundraising and volunteering) then I would encourage people to please get in touch by calling us on 01527 570490 or by visiting our website www.ageuk.org.uk/brwf/ ."
 (Photo shows from left to right: Sam Humphray, CEO of Age UK Bromsgrove, Redditch & Wyre Forest, Councillor Marcus Hart, Council Leader and Jan Vale, Information and Advice Officer)
---