Rangers plant 500 trees at Burlish Top
20 February 2019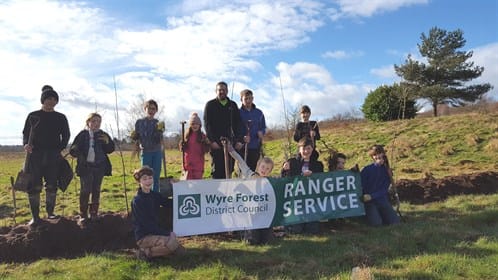 More than five hundred hazel, thorn and oak trees were planted at Burlish Top nature reserve on Sunday (10 February).
The reserve acquired by Wyre Forest District Council in 2018 has been given a new lease of life after the council's Ranger Service and Young Rangers worked together to plant the trees.
The trees will form a natural barrier around part of the nature reserve and it is hoped this will also benefit local wildlife.
Both District and County Councillor Chris Rogers provided the Rangers with the money for the trees from the Worcestershire Councillors' Divisional Fund.
Councillor Rogers said, "I am pleased to help fund the Ranger Service project at Burlish Top. One reason the fund was created is to support the environmental wellbeing of the local area, which this project will certainly deliver on."
Councillor Juliet Smith, Cabinet Member for Culture, Leisure and Community Protection said, "The Ranger Service, alongside our brilliant Young Rangers, plays an important role in maintaining the district's many nature reserves and I hope families will continue to spend time at Burlish Top for years to come."
Anyone who has any queries on the extension plans can email the Ranger Service at rangers@wyreforestdc.gov.uk.
(Image shows from left to right: Young Ranger volunteers Sophia Wheal, Layla Bouncer, Jack Lewis, Sam Lézé, Amelie Underwood, Countryside Ranger Adam Wright, Richard Darkins, Edward Darkins, Matthew Kimber, Grace Wright, Ben Underwood and Tess Lézé).
---