Sponsors lined up for first North Worcestershire Business Awards
06 June 2019

Excitement is building for the first ever North Worcestershire Business Awards as all the sponsorship opportunities have been snapped up by local companies.

The glittering North Worcestershire Business Awards ceremony organised by North Worcestershire Economic Development and Regeneration (NWedR) and North Worcestershire Business Leaders (NWBL) will be held at Hogarth's Stone Manor Hotel near Kidderminster on Thursday 28 November 2019.

There are five award categories to enter, the winners of which will win a gorgeous glass trophy to be presented at the awards ceremony. The overall sponsor for the event is Eureka Financial Solutions from Stourport-on-Severn.  The associate sponsor is Hartlebury based DRPG, contribution to the community (CSR) award is sponsored by OGL Computer, best business start –up of the year sponsored by Invoco Telecom, best customer service in retail sponsored by Lloyds Bank, outstanding entrepreneur of the year is sponsored by BizSmart, best employer of the year sponsored by HR Dept Worcestershire and the North Worcestershire Innovation of the Year award is sponsored by WINN.  The proud media partner for the event is Business & Innovation Magazine.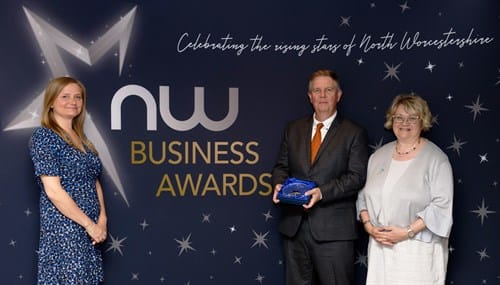 At the event, the VIP drinks reception will be sponsored by Bewdley Brewery and Astley Vineyard and there will be a raffle to support Primrose Hospice. Sponsors will be served with cocktails courtesy of Decanter Spirit from Bromsgrove. 
Andrew Baker, Director of Eureka Financial Solutions, Overall Sponsor of the North Worcestershire Business Awards 2019 said,
"Eureka Financial Solutions are thrilled to be associated with such a positive event for businesses in North Worcestershire. As we have had our head office in Stourport-on-Severn since 2005, we are very much part of North Worcestershire and look forward to being Overall Sponsor of the inaugural Business Awards in November."
Jane Doyle from NWedR, joint organiser of the North Worcestershire Business Awards said
"We have been absolutely delighted by the enthusiasm of local businesses who have taken up the sponsorship opportunities. There is a real appetite for this event in North Worcestershire where we have more than 17,500 businesses operating across a huge range of sectors.  Organising a Business Awards is a significant project so it's fantastic that we have a proactive committee made up of local business leaders who are also North Worcestershire Ambassadors. They are giving their time and expertise to ensure the event is an outstanding success and we would like to thank them for their highly valuable input."
Melanie Hawkett from NWBL, joint organiser of the North Worcestershire Business Awards said
"Holding a business awards event for North Worcestershire has been on our wish list with NWedR for a while now.  We are looking forward to celebrating the rising stars across North Worcestershire and coming together to showcase the fabulous businesses that operate here. Over the coming months, we will be encouraging businesses to self-nominate or to propose an entry for their favourite local businesses. We will also be putting the glittering event goody bags together, so if you have a superb locally produced product that deserves a place in the goody bags – do let us know!"
Businesses involved in organising the awards include Citizen Communication, DT Studios, Business & Innovation Magazine, Millbrook Marketing, Hogarth's Stone Manor, Opening Doors & Venues. 
The dedicated awards website www.NWBusAwards.org is the place to go to find out about the awards and where businesses can enter and buy tickets from 6 June until 12 September.
Overall sponsor of North Worcestershire Business Awards, Eureka Financial Solutions, Director Andrew Baker (centre) with event organisers Melanie Hawkett North Worcestershire Business Leaders (left) and Jane Doyle NWedR (right).
---