Cherry is the flavour next month...
07 June 2019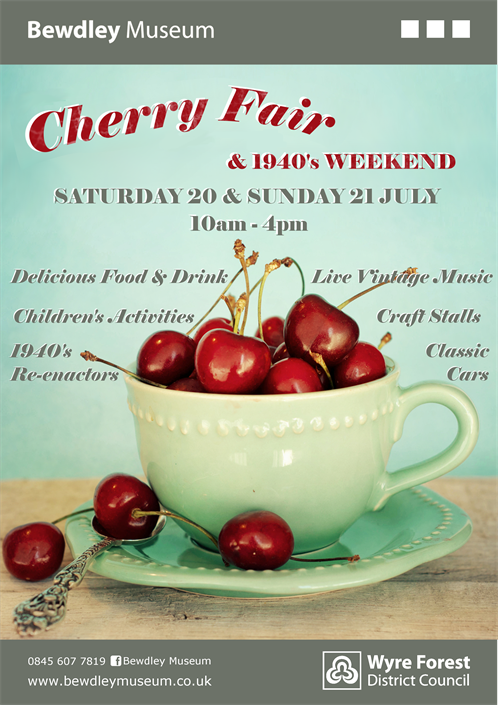 Bewdley's annual celebration of all things cherry will be held at Bewdley Museum on Saturday 20 and Sunday 21 July.
The town's annual Cherry Fair – which will have a 1940s theme – is organised by Wyre Forest District Council in partnership with Bewdley Civic Society.
Visitors are in for a 'cherry-tastic' time, with lots of delicious varieties of cherries to sample and purchase.
The tasty extravaganza kicks off at 10am with entertainment going on throughout the day until 4pm.
During the day Bewdley Civic Society will give a talk about the history of Bewdley's famous cherry orchards and the many varieties of cherries that were grown.
There will be a real 1940s feel to the day with re-enactors, classic cars, vintage stalls and 1940s music.
On Saturday 20 July, Kevin Mack will perform numbers by Frank Sinatra, Glen Miller and other 30s and 40s classics while on Sunday 22 July, Wyre Forest Big Band will perform sounds from the era. The museum's popular air raid shelter will also be open with talks and displays of 1940s memorabilia.
Councillor Helen Dyke, Cabinet Member for Culture, Leisure and Community Protection said: "Come along and celebrate all things cherry over the weekend of Saturday 20 and Sunday 21 July.
"This free event is a great opportunity to learn about the history of Bewdley with its 200 year tradition of an annual Cherry Fair going back to 1817!"
More information is available on the What's On section of the museum's website www.bewdleymuseum.co.uk.
---