Localism grant gives local groups a helping hand
28 February 2019

A community group which uses Rushock Village Hall to host events for members of the public has used funding from Wyre Forest District Council to replace the hall's flooring.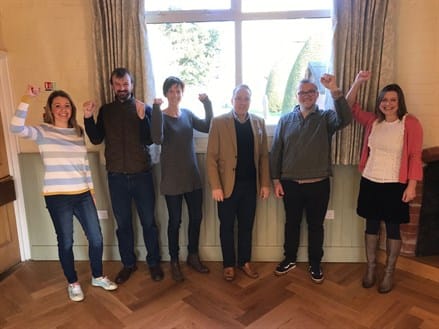 Rushock Village Hall Committee received £1,500 from Wyre Forest District Council's community Localism fund.
The committee applied for funding to remove Rushock Village Hall's ageing wooden floor and replace it with a new one. The installation of the new floor has helped the group continue its regular sessions aimed at supporting the local community, with a particular focus on isolated living, health and wellbeing.
The village hall currently holds a monthly coffee morning which takes place on the first Tuesday of every month. This session is volunteer-led and gives local residents the opportunity to socialise over a cup of coffee and a slice of cake!
The group also coordinates a weekly chair yoga class on a Wednesday, which brings residents together and helps support them with their posture, balance, strength and mental wellbeing.
Gemma Downing a member of Rushock Village Hall Committee said: "The committee was formed by local people who wanted to make a difference. Our community activities benefit people in our local area by offering the opportunity to come together in a lovely environment and socialise, whilst improving their health. The grant has helped us continue offering these services and we are really grateful for the council's help."
Rushock Parish Council has also benefitted from the community Localism fund after receiving £750 to help keep the parish clean and safe.
Beverley Drew, Clerk to Rushock Parish Council said: "Thanks to the community Localism fund we've been able to buy new equipment to help keep Rushock clean and safe. We really appreciate the grant and if anybody wishes to join us on our litter picks they are advertised on village noticeboards".
Council Leader Councillor Marcus Hart, who leads on Localism in Wyre Forest, said: "I am delighted that our Localism initiative has been able to support Rushock Village Hall Committee and Rushock Parish Council. This funding will help both organisations continue to make a real difference in the village.
"These kinds of projects are exactly what our Community Localism Fund was set up to support – working in partnership with communities to improve services and facilities for local residents."
(Rushock Village Hall Committee Members with Council Leader Councillor Marcus Hart (centre) from left to right: Gemma Downing, Giles Palmer, Rachel Jones, Ashley Wilson and Clare Jennings)
---