Localism fund supports scheme to bring litter-picking into the classroom
21 March 2019

High school students will soon be learning about the importance of binning litter thanks to funding from Wyre Forest District Council.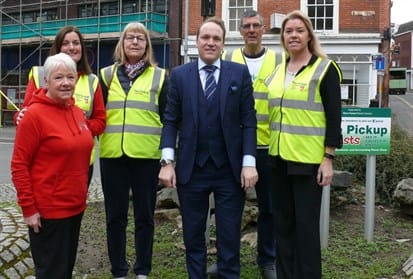 Popular litter-picking group, The Pickup Artists, has received £611 from Wyre Forest District Council's community Localism fund.
The money will help the group roll-out classes to high-school students across the district about the consequences dropping litter has on the local area and the planet.
The group hopes the environmentally-friendly message will help them recruit teenagers to pick up litter around their school and join the already established Junior Pickup Artists, currently made up of primary school students from 10 schools in the district.
The Pickup Artists' aim going forward is to loan litter picking equipment, purchased using funding from the community Localism fund, on a term-by-term basis to Junior Pickup Artists at high schools in Kidderminster, Stourport and Bewdley.
Council Leader Councillor Marcus Hart, who leads on Localism in Wyre Forest, said: "The Pickup Artists are a shining example of local people coming together to positively impact the district. We have worked closely with the group throughout the past few years, providing them with litter-picking equipment and black bags as well as disposing of collected litter.
"I'm delighted our community Localism fund has helped them purchase new litter-picking equipment and I'm sure their Junior Pickup Artists group will continue to grow after they visit local high schools.
"This is exactly what the fund has been set-up to support, groups that are making a real difference to the lives of local people."
The Pickup Artists Leader, Michelle Medler said: "After the success we have had with the Junior Pickup Artists it is an amazing opportunity to extend our provision into secondary schools.
"With the new equipment and enthusiasm the younger generation has about waste and single plastic we hope we can change some habits, littering being the main one. To find out more or get in touch, please look at our website – www.thepickupartists.co.uk."
For more information on the community Localism fund, please visit www.wyreforestdc.gov.uk/localismfund.
(Volunteers are pictured from left to right: Jan Gough, Karen Blanchfield, Jane Barnbrook, Paul Colson, Michelle Medler with (centre) Councillor Marcus Hart, Wyre Forest District Council Leader)
---