Localism grant continues to support local groups
21 March 2019

Community-minded students from Wolverley C.E Secondary School have received a boost after funding from Wyre Forest District Council.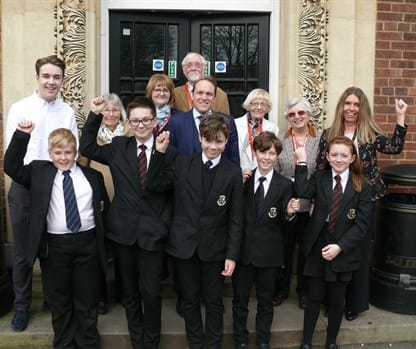 The student-led Age Mix project has been awarded £1,000 from Wyre Forest District Council's community Localism Fund.
The project set-up and organised by ex-student Ollie Farquharson, aims to bring together people from all generations. The group meets once a fortnight to take part in a wide range of activities from cooking to meeting the school's wildlife in the animal centre.
Following the start of the project, the school has seen an increase in student attendance and academic performance.
Funding from the community Localism Fund has also been awarded to the animal centre based at Wolverley C.E Secondary School. The centre run by Wild Goose Rural Training received £500 towards building an enclosure to re-home two meerkats from Dudley Zoo.
The centre is a popular location for local primary, special and public referral schools, as it gives children from all backgrounds an opportunity to learn about, engage with and see animals. It is already home to a wide variety of species from farm animals to exotic animals.
Wyre Forest District Council Leader Marcus Hart, who leads on Localism for the authority, said: "It's great to see our community Localism Fund continuing to support projects that mean so much to local people".
"The Age Mix project is a great way to bring together people from all generations and this has been made possible thanks to the hard work of Ollie Farquharson at Wolverley C.E Secondary School."
"Only next door, the animal centre carries on the community ethos by opening its doors to local schools. The work they do is brilliant and I'm sure the meerkats will be a welcome addition."
"These are exactly the kind of projects our Localism Fund was set up to support – working in partnership with communities to improve services and facilities for local residents."
Ollie Farquharson, Age Mix Project Leader at Wolverley C.E Secondary School, said: "I'm extremely pleased with the grant we received from Wyre Forest District Council's community Localism Fund."
"This will help us introduce a wider range of activities for the whole group to enjoy. If you are interested in coming along, please call the school's main reception on 01562 859800."
(Age Mix project members with Age Mix project organiser Ollie Farquharson, teacher Mrs Rose and Wolverley C.E Secondary School students from left to right: Jayden Smith, Lucian Lawson, Logan Shell, Charlie Hills, Olivia Kirby Davis and (centre) Councillor Marcus Hart, Wyre Forest District Council Leader)
---