Old boathouse begins conversion into bat haven
12 March 2019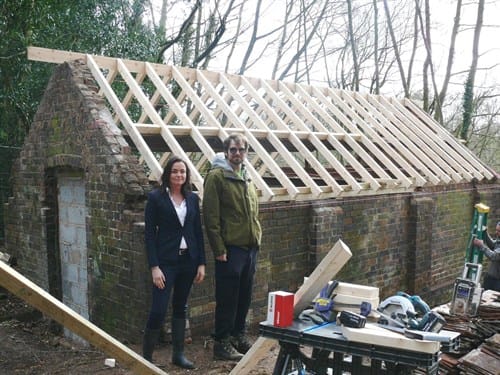 Work is underway to convert the old derelict boathouse at Hurcott Pool and Woods into a haven for bats.
The new refuge will be the first of its kind in Worcestershire and rangers hope it will attract more species of bats back to the area, including the lesser Horseshoe bat.
Norgrove Developments Ltd is currently carrying out the work with support from Wyre Forest District Council's Ranger Service.
A council grant of £7000 was awarded to the project and funding was also received from the Worcestershire Bat Group and the Bat Conservation Trust.
Sharon Norgrove from Norgrove Developments said, "My husband, Jack Norgrove, and myself are regular visitors to Hurcott Pool and Woods, so we were pleased to accept the conservation project when local ranger Oliver Price approached us. We look forward to participating in many more similar projects in the future."
Councillor Juliet Smith, Cabinet Member for Culture, Leisure and Community Protection said: "Our nature reserves are some of the most beautiful places in the district and I am delighted that we have been able to support this very exciting conservation project. I hope that once the refuge is open, lots of local families and wildlife enthusiasts will come along to find out more about the bat species we have in our area."
Rangers have estimated that the work should be completed by April 2019 and anyone who would like to find out more about this project can email the Ranger Service rangers@wyreforestdc.gov.uk
To get involved with the conservation of bats and the landscapes they rely on visit the Bat Conservation Trusts website www.bats.org.uk
If anyone is interested in becoming a member of the Worcestershire Bat Group they can apply online at www.worcestershirebats.org.uk
(Image shows from left to right: Sharon Norgrove, Part Owner of Norgrove Developments Ltd and Oliver Price, Wyre Forest District Council's Education Ranger)
---