Rangers and local school children set to plant 1650 trees in Kidderminster
18 November 2019

More than a thousand trees will be planted in Kidderminster later this month as part of Wyre Forest District Council's Stour Gateway project.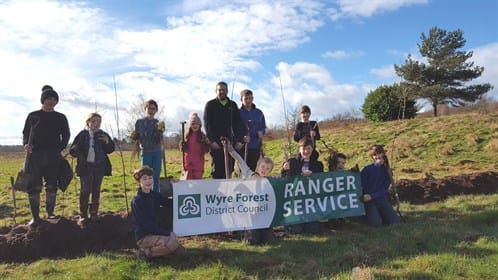 To celebrate National Tree Week, the council's rangers alongside school children from St Mary's C of E Primary School are planting 1650 trees on Thursday 28 November.
The trees a mix of Alder, Silver Birch, Goat Willow and Hawthorn will be planted along the Stour Gateway (near Kidderminster Delivery Office), forming a natural entrance to Stourvale and Puxton Nature Reserve.
The project is being part-funded through European Regional Development Funds administered by Worcestershire Wildlife Trust and Worcestershire County Council as part of the Natural Networks programme. It is hoped the trees will benefit air quality and the wide range of wildlife species in the area.
The Environment Agency will also help with the planting as they continue to work with the council's rangers on the 'Salmon in the Stour' initiative seeking to improve River Stour's water quality.
Paul Allen, Wyre Forest District Council's countryside and parks manager said: "It's brilliant our rangers, the Environment Agency and school children from St Mary's C of E Primary School are coming together on this project. By planting 1650 trees we are enhancing the Stour Gateway, improving air quality and giving wildlife a new habitat to thrive in for years to come."

---