Area looks McCleaner after fast food chain's litter pick
11 April 2017

Volunteers from McDonald's in Kidderminster took time out of their working day to take part in a litter pick last week.

A team of 12 restaurant workers and volunteers joined forces with members of Wyre Forest District Council's street cleaning team and filled 20 bags of litter in just a couple of hours.

They covered an area including Heronswood Road Spennells, Worcester Road, Worcester Road Island,  Stourport Road to Park Lane and then on to the Kidderminster Cemetery.

Wyre Forest District Council's Place Coordinator Sarah Davis said: "I'd like to thank everyone who took part in the litter pick. It was a great opportunity for the council to work shoulder to shoulder with a local business to improve the environment for everyone living or simply passing through the area.

"This kind of initiative is part of our ongoing commitment to keep the district clean and looking good."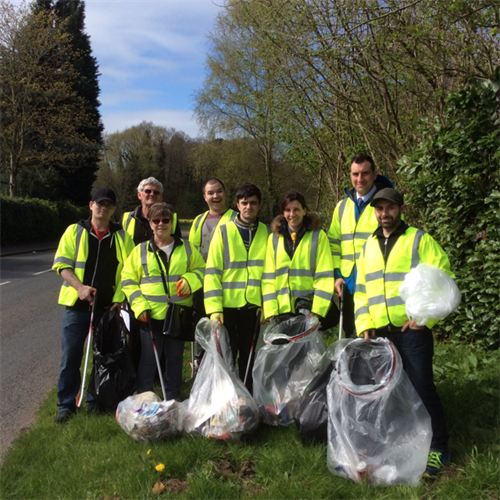 McDonald's Franchisee, Afia Sirkhot said: "It was fantastic to see everyone come together and help tidy up Kidderminster. It's a key priority of ours to ensure that the local area remains free of litter and an enjoyable place to live, work and visit.
"As a business we understand the important role that we play in making the area a better place. While we are keen to actively discourage littering, we recognise that community events like this one help make a huge impact on the local area.
"When local businesses like McDonald's and the community come together to tackle local issues we are able to achieve so much more and this event is a perfect example of this."
If you are interested in holding a litter picking event in your neighbourhood contact 01562 732528.
Volunteers included: Adele Palmer, Sukhy Johal, Ben Checkets, Abbie Clarke, John Watkins, Greg Cowen, Paulette Windridge, Alex Evans, Tracey Wild, Jade Cheeseman, Mohammed Bilal, Emmanuel Paci, Mike Dickens and Adam Arnold.
---