Preferred Developer Announced for Lion Fields, Kidderminster
18 December 2017

Following a formal competitive tender process undertaken by Wyre Forest District Council, Cordwell Property Group based in Belbroughton, Worcestershire, along with Peveril Securities, part of Bowmer & Kirland, have been announced as the preferred developer for Phase One of the Lion Fields Development in Kidderminster, subject to contract.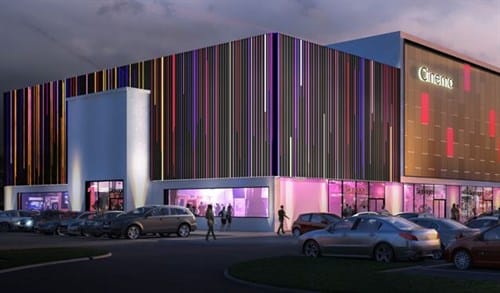 Lion Fields, formerly referred to as the Kidderminster Eastern Gateway Development, includes the former Glades Leisure Centre site and adjacent parcel of land owned by Worcestershire County Council, which forms Phase one of the redevelopment plans for the area.
Cllr Ian Hardiman, Wyre Forest District Council's Cabinet Member for Planning and Economic Regeneration said,
"It is very exciting to see the council's ambitions moving closer to fruition.  The Cordwell plans include a multi-screen cinema complex with up to six restaurant/café units, a gym, drive-through coffee restaurant and car parking which is exactly what we'd planned for the site when we adopted the Development Framework in July 2016.
"It is important that this first phase of redevelopment acts as the catalyst and sets the benchmark for the redevelopment of the wider area. This is an important development in the context of the wider investment the council has made in the Town Centre including the £2m public realm improvements and proposals to open up Worcester Street to traffic again" 
Wyre Forest District Council's Leader, Cllr Marcus Hart said,
"We are delighted that local property group Cordwell are taking this project forward. At its February 2017 meeting, Wyre Forest District Council's Cabinet agreed the way forward to progress comprehensive regeneration plans for Lion Fields. This included the demolition of the Glades Leisure Centre to make way for a new leisure 'destination' for local residents and visitors.
"The proposed development from Cordwell promises to deliver exactly what we envisaged for this site and we look forward to creating a prestigious cinema and leisure hub in the heart of Kidderminster town centre with more regeneration and investment to follow as set out in our ReWyre prospectus in 2012."
Tom Wilcox, Director at Cordwell Property Developments said
"We're immensely excited to be involved in this important gateway development site for Kidderminster and it's the first phase of what are exciting plans for the town. We are working with a number of different operators to create a scheme which will be a bright, new contemporary addition to the town's leisure facilities.
"We are aiming to be in a position to submit a planning application in the summer of 2018, and the scheme, which is a viable and deliverable proposal that will boost the town's regeneration, will bring up to 180 full and part time jobs for local people with many more created during the construction programme."
Picture shows: Artist impression of the cinema proposed at Lions Fields, Kidderminster.
---