Greener Living Fair at Kidderminster Town Hall
11 January 2017

Make a date to visit the Kidderminster Greener Living Fair at Kidderminster Town Hall on Saturday 28th January from 10.30am and 2.30pm. This free event is organised by Wyre Forest District Council and Transition Kidderminster.

The Fair will showcase a wide range of activities, products, individuals and organisations that enable and support green and healthy communities and will provide the perfect opportunity to find out more about the sort of things that are going on in the area.

Information and advice will be available about things such as renewable energy and technologies, electric vehicles and cycling. There will be free and fun activities for people of all ages and stalls promoting the many exciting things happening in our beautiful green spaces.

A range of upcycled goods and Traidcraft / Fairtrade products will be on sale, free hot drinks will be provided and delicious hot food will be available that has been made from ingredients that would otherwise have gone to waste.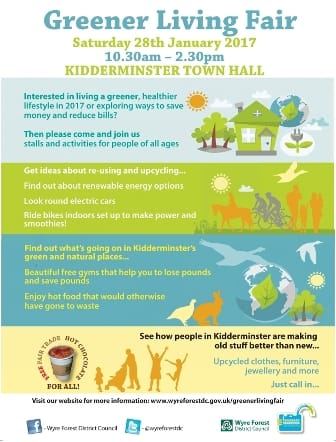 Councillor Juliet Smith, Wyre Forest District Council's Cabinet Member for Health, Wellbeing and Housing said:
"Similar events in recent years have been a real hit with residents and visitors to the area. The intention is that visitors to the fair will get a chance to find out more about what is happening in the area and the things that people are doing to look after their health, save money, and support the wider community and our natural places. We look forward to seeing you!"
These are the stalls and activities that have so far been confirmed for the Kidderminster Greener Living Fair:
Act on Energy

Bees

Bewdley Repair Cafe

Big Local DY10

Bishops Wood

Death Cafe

Electricity-generating bike

Ecotricity

Faded to Fabulous

Fairtrade and Traidcraft

Foraging

Friends of the Earth

Friends of St. George's Park

Green funerals

Health walks

Love Food, Hate Waste, recycling and composting

Nissan

Severn Trent Water

Severn Valley Velo cycling club

Smoothie-making bike

Square Foot Gardening


Step - Out

The Cycle Forum

The Fabulous Cob Oven Company

The Real Junk Food Project Birmingham

Transition Kidderminster

Upcycled clothing, bags and brooches

Waste2Want

Worcestershire Wildlife Trust

Wyre Forest Rangers

Wyre Forest Vegans and Veggies
You can also follow us on Twitter (@wyreforestdc) using the hashtag #greenerliving or Facebook (Wyre Forest District Council).
---