Future plans for park up for discussion
27 July 2017

The future development plans for Brinton Park will be discussed at a meeting of Wyre Forest District Council, partners and park users.

The council was looking to reinstate the heritage aspects of the park, which have been lost over time, as well as create a place which will serve the community for the next 100 years.  It had worked with the community to develop the plans and a public survey was carried out last summer.  There was widespread support for the project.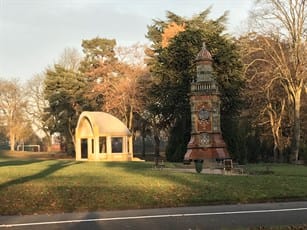 An application was submitted for a Parks for People grant of up to £2 million from the Heritage Lottery Fund, but earlier this month the council found out the application had been unsuccessful.
Councillor Marcus Hart, Leader of Wyre Forest District Council said:
"We are really disappointed to learn that our application for a Parks for People grant from Heritage Lottery Fund was unsuccessful on this occasion.  The team put a huge amount of work into gathering the information and devising a plan for the bid.  This has resulted in us enhancing our great partnerships with organisations that are based in the park and the wider community.  We will be meeting up to decide what steps to take next, including whether to resubmit our application at a future date."
Last week Brinton Park and the Queen Elizabeth II Gardens in Bewdley were among a record-breaking 1,797 UK parks and green spaces to receive a prestigious Green Flag Award – the mark of a quality park or green space – from the environmental charity Keep Britain Tidy.
This international award, now into its third decade, is a sign to the public that the space boasts the highest possible environmental standards, is beautifully maintained and has excellent visitor facilities.
---