Armed Forces Day flag to be raised
13 June 2017

A special flag flying ceremony has been arranged by Wyre Forest District Council to honour the British Armed Forces.

The event will take place outside Bewdley Museum on Monday 19 June.

Guests are asked to arrive at 10am ready for a parade. A Parade Marshal will lead standard bearers from armed forces associations through the museum to the front of the building, where they will gather for a ceremony

At 10.15am guests will be formally welcomed by Cllr David Little, the Chairman of Wyre Forest District Council. This will be followed by prayers.

The flag will be raised by at 10.30am to honour the British Armed Forces, past, present and future.

Councillor Marcus Hart, Leader of Wyre Forest District Council said:

"The Flag Flying Ceremony is a great opportunity for everyone to show their support for our Armed Forces. This includes troops who are currently serving and their families as well as veterans and cadets. Residents are welcome to come along, and if appropriate to wear their full military regalia, berets, blazers or uniform to mark the occasion."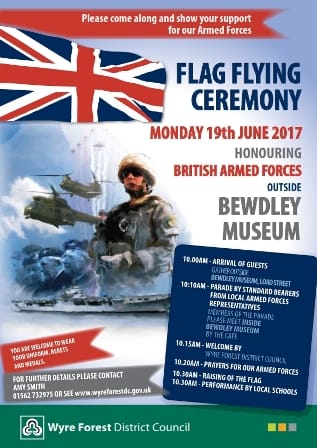 The council has two armed forces champions, they are Councillor Jeff Baker and Councillor Nicky Gale.
Councillor Jeff Baker said:
"Councillor Gale and I are delighted to be armed forces champions.  Our role is to make sure that the council achieves its commitments to the armed forces community which are set our in the Worcestershire Armed Forces Community Covenant.  We hope this ceremony will help to strengthen the ties between the Armed Forces Community and our community here in Wyre Forest."
Wyre Forest District Council is one of hundreds of councils across the country taking part in a week of official celebrations in honour of our Armed Forces. The national centrepiece of the celebrations is on Saturday 24 June in Liverpool and local events will be taking place across the country. For more information visit www.armedforcesday.org.uk . The hashtag #SaluteOurForces is being used on social media.
Councillor Nicky Gale,  who is also the Mayor of Kidderminster,  said:
"As a council we feel that it's important to support and be part of the official celebrations taking place across the country. We have been joining in for several years now, alternating where the ceremony takes place between Kidderminster, Stourport and Bewdley. Please come along to Bewdley on Monday 19 June, it is only a short ceremony and gives everyone an opportunity to show their support and salute our forces for all they do."
Kidderminster will be holding its first Armed Forces & veterans breakfast club on Saturday 1st July at 9.30am at the Gatsby Emporium, in Kidderminster.  All ex-servicemen and women welcome.
For more information about Wyre Forest District Council's flag flying ceremony visit www.wyreforestdc.gov.uk/
---