Council appoints new development partner
13 March 2017

Wyre Forest District Council has announced a new partnership with Public Sector Plc (PSP) to accelerate the development of some of its property and landholdings.

PSP is a private sector body backed by the Winston Group and the William Pears Group that has helped councils across the country maximise the development potential of their assets to the benefit of local communities.

They do this by forming Limited Liability Partnerships with councils using a unique 'Relational Partnering' model.

Ian Hardiman, Wyre Forest District Council Cabinet Member for Planning and Economic Regeneration said:" We have been extremely impressed with the outcomes PSP has achieved with other council partners and believe that their model is a great fit for our area and will help us get the most from the development of some of our sites.

"The council remains committed to regenerating the district through our ReWyre programme. We believe this new partnership will act as a key catalyst to encourage more investment in the district, creating new homes and job opportunities."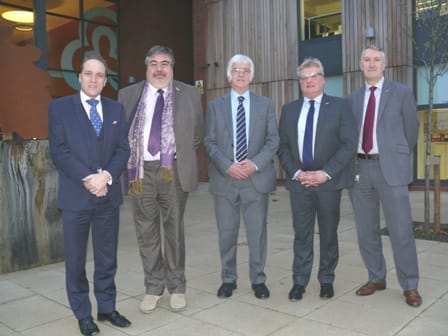 Chairman of PSP Richard Smith said: "We are delighted to be working with Wyre Forest District Council, who through this partnership will be joining the Public Sector Plc Council Consortium Group (CCG).
"Currently there are 21 Councils using the PSP governance structure which is a "hybrid" partnership model and encompasses a new and innovative approach to delivering additional value to those councils using it in relation to their property estates.
"It is based upon a "Relational Partnering culture" where councils and private sector jointly work together so that the financial benefits that arise could be made available as a contribution to their budgets and therefore indirectly helping to minimise service cuts. For further information please see www.publicsectorplc.com.
"We look forward to working with councillors and officers in Wyre Forest who now have access to the expertise gathered by all the other councils using this "hybrid" property partnering approach."
Working together the partners aim to create additional value to the development potential of some of the council's assets over and above what the council might otherwise have otherwise been able to achieve and it is expected that PSP will bring some fresh ideas and funding opportunities to the district. Work will begin shortly on reviewing the council's portfolio of sites with development potential.
Pictured from left to right: Wyre Forest District Council Leader Marcus Hart, PSP Director of Public Partnerships Mark Hammersley, Cabinet Member for Planning and Economic Regeneration and WFDC Deputy Leader Ian Hardiman, PSP Strategic Director Mark Poppy and WFDC's Director of Economic Prosperity and Place Mike Parker.
---