Bank holiday display of Stourport Riverside Meadows masterplan
26 April 2018

Residents and visitors will have another chance to comment on suggestions for improving Stourport Riverside Meadows this coming Bank Holiday Monday as part of the latest stage of consultation over its future.

A special display setting out ideas for improving the popular riverside area will be set up near the play area by the main car park on Monday 7 May. It follows a similar session held over the Easter weekend.

More than 250 people completed a survey earlier in the year to give their views on how the popular riverside park might be improved in future years.

There were also face to face meetings with traders and other interested groups who were asked for ideas on how the park could be enhanced for residents and visitors alike.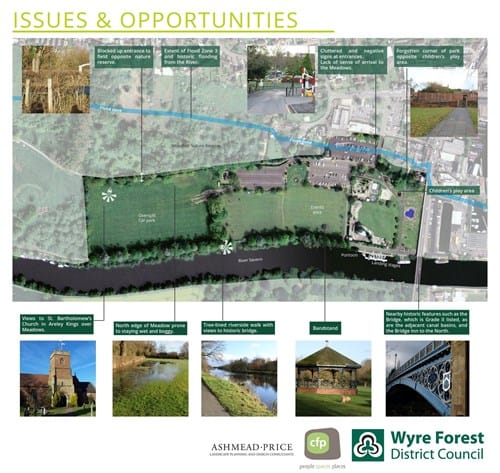 The consultation is being carried out by Worcestershire-based parks and green space specialists CFP on behalf of Wyre Forest District Council.
Staff from CFP will be back out in Riverside Meadows on Bank Holiday Monday asking people to comment on proposed improvements arising from the earlier rounds of consultation.
Many respondents to the survey said Riverside Meadows was a welcoming place that is well looked after by the council, but wanted to see improvements  to the play areas, toilets, signage, traffic congestion and car parking.
Wyre Forest District Council landscape officer Alan Breen said: "We were very pleased with the number of people who completed the survey and gave their views and ideas.
The vast majority of respondents were local residents so we can be confident that we have captured the views of local people who perhaps use the area more than anyone.
"We received many positive comments about the Meadows, so we know the area is popular and we hope to take on board some of the suggestions to make it even better, not only for residents but for the thousands of visitors who flock to the area each year from further afield.
"We ran a session over the Easter holidays but bad weather did keep many people away from the riverside. We want to give people another chance – hopefully the weather will be better this coming Bank Holiday Monday."
The masterplan proposals will be on show in a gazebo by the play area next to the main Riverside Meadows Car Park between 11am and 3pm on Monday 7 May.
---